Leading Edge DC, an Australian start-up planning to install small facilities across Australia, has secured AUS$20m (US$13m) in funds.
More than 20 data centers will be built across Australia with two New South Wales sites, in Tamworth and Newcastle, finished by the end of the year. After the two sites are built, the rollout will continue to Albury, Wagga Wagga, Parkes, Dubbo, and Coffs Harbour.
The firm will use prefabricated data centers that can be quickly erected and used. The prefabs come in either 30 or 75 rack configurations, Leading Edge says. Staff will be recruited locally, and there is financial backing from Washington H. Soul Pattinson, an Australian firm that's been in operation for over 100 years.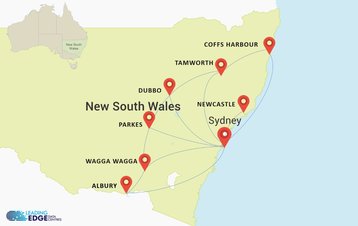 Moving Australia to the Edge
"Within weeks we can be present in new locations with a world-class Tier 3 data center, designed for Australian conditions, capable of scaling as required, said Leading Edge DC's CEO Chris Thorpe in an announcement. "Our edge network, powered by partnerships with strategic real estate, diverse network connectivity, and cloud-ready services, delivers competitive solutions for customers requiring a smarter network."
"The recent Covid-19 crisis has further highlighted that Regional Australia has a great need for digital infrastructure to improve connectivity for remote and rural areas," said Washington H. Soul Pattinson managing director Todd Barlow:"It's fantastic to see an Australian start-up with years of combined experience in this space initiating a solution that will fill this huge gap."
Edge data centers allow the processing of data to occur closer to the user, reducing latency for very data-heavy tasks, allowing more applications to be used in everything from finance, entertainment, commerce, and business. On a larger scale, this can result in fewer network slowdowns as people can send their data to be processed closer to "home" rather than in far off data centers and avoid bottlenecks.