French IT service provider Atos has deployed the first two modules on its data center campus on the outskirts of Paris.
The pre-fabricated facilities offer 1,300 square meters (13,990 square feet) of total floor space and boast PUE of 1.2, which means that overall, they use just 20 percent more electricity than is necessary to power the servers.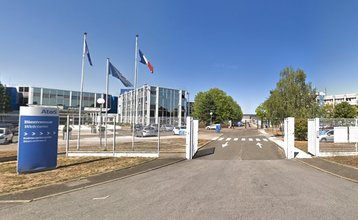 The company broke ground on the campus last year and plans to deploy another six modules incrementally, bringing the final structure online in 2020. Atos has a total of 93 data centers, 15 of which are in France.
The company has an exclusive lease on the Clayes-sous-Bois property for the next 30 years - having occupied the site for the past 50 years – where it currently employs more than 1,000 R&D staff.
The land was ceded to the Yvelines departmental council by public land agency, l'Établissement Public Foncier d'Île-de-France (EPFIF).
I get by with a little help from the local government
As well as the data centers, the company is building a new 8,000 square meter (86,110 sq ft) R&D lab on the site, subsidized in part by the Île-de-France region, which contributed €5m to the project. The lab will support the company's quantum computing program, which aims to develop commercial quantum accelerators and hybrid supercomputers.
The departmental council's president, Pierre Bédier, praised the project, calling it a demonstration of the effectiveness of co-investment.
He said: "The Yvelines departmental council's mobilization and support in the development of Atos' future global innovation hub in Clayes-sous-Bois is proof of our will to develop R&D and digital assets to address territorial challenges."
Bédier added that the joint initiative hopes to revitalize the region by helping innovative businesses both in their research and in their land and property issues.
Atos' general manager for France, Jean-Marie Simon, said the company was proud of its new data center, which it hopes will help support its customer base worldwide with "increased efficiency, resilience and security, so that they can effectively tackle any current and future challenges."