European IT services giant Atos will deliver a 12 petaflop supercomuter to the German interdisciplinary research center Forschungszentrum Jülich in the second quarter of 2018.
The BullSequana X1000 system will be operated by the Jülich Supercomputing Centre, a member of the Gauss Center for Supercomputing. The project is funded by the Ministry of Culture and Science of the German State of North Rhine-Westphalia.
A bull market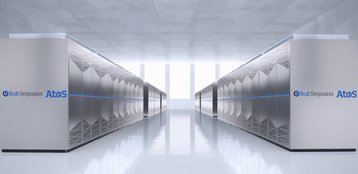 The complete system will include ten BullSequana X1000 cells, with direct liquid cooling that uses warm water at up to 40°C (104°F). Specifics of this particular deployment were not given, with Atos offering a range of Intel Xeon-based configurations, and the option of adding Nvidia Pascal P100 GPUs.
In a June 2017 brochure, Atos stated that each cell can contain up to:
288 dual-socket Intel Xeon nodes or;
288 single-socket Intel Xeon Phi nodes or;
96 dual-socket Intel Xeon nodes with four Nvidia Pascal GPUs each.
"The fact that Forschungszentrum Jülich has chosen Atos BullSequana supercomputer proves that our European technologies and solutions bring significant value and the necessary trust to more and more research institutes in the demanding challenges they have to tackle," Thierry Breton, chairman and CEO of Atos, said.
"In addition, they appreciate that our Atos BullSequana supercomputer is characterized by high energy efficiency and careful use of resources which provides state-of-the-art low carbon impact, necessary to reach exascale in a sustainable way."
Munich-based company ParTec will provide system management with its ParaStation software stack and local staff.
"Since 2010, our experts have been developing the software, which will in future create the union of several modules into a single system. In partnership with Atos it is our goal to provide the leading software for Exascale," Bernhard Frohwitter, CEO of ParTec, said.
The system will be used for various scientific initiatives, including the ambitious Human Brain Project, a €1 billion (US$1.2bn) EU-wide effort that began in 2013. A ten-year research project to understand the human brain, it hopes to create the ICT infrastructure required to advance neuroscience, computing, and brain-related medicine.
In addition to Jülich, the HBP is supported by the CSCS Swiss National Supercomputing Centre, the Barcelona Supercomputing Center and Italy's Cineca system.
Similar projects are underway in other parts of the world: in the US with the BRAIN Initiative, in China with the China Brain Project and in Japan with the Brain/MINDS project.