French IT and outsourcing giant Atos has signed a deal with India's Centre for Development of Advanced Computing (C-DAC) to deploy a number of supercomputers across the country.
The specific quantity of systems is not clear, but several BullSequana supercomputers will be installed at a number of academic and research institutions, with a cumulative computing power of more than 10 petaflops.
The three-year contract with C-DAC, an organization within the Ministry of Electronics & Information Technology (MeitY), is part of India's National Supercomputing Mission. NSM is a seven-year plan to create a network of around 70 high-performance computing facilities across India with a budget of INR 4,500 crores (US$650m).
Crore blimey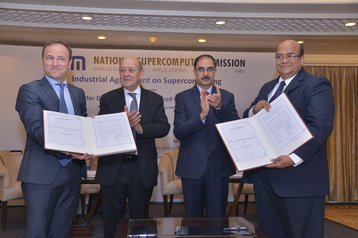 The contract was signed in New Delhi, in the presence of the French Minister for External Affairs, Jean-Yves Le Drian, and the Secretary of the Minister of Electronics and IT of India, Ajay Prakash Sawhney.
"This new agreement illustrates the strategic relationship and partnership between France and India and will enable India to leapfrog to the league of world-class supercomputing power nations," Dr Hemant Darbari, director general of C-DAC, said.
Arvind Bajaj, VP and head of big data and security at Atos India, added: "We are very excited and looking forward to this unique technology partnership with C-DAC. Besides delivery of the Make in India Supercomputers, the partnership will bring to bear cooperation in many emerging areas, including exascale computing, artificial intelligence and quantum computing."
Delivery of the new systems is expected to start early 2019.
Elsewhere
In a separate deal, Atos will deliver a BullSequana XH2000 to the National Supercomputing Center IT4Innovations, in the Czech Republic.
Set to be installed in April 2019, the system is expected to be eight times more powerful than its predecessor Anselm, which was deployed back in 2013.
"The demand of Czech scientists for computing resources exceeds our currently available capacity by about 100 percent," Vít Vondrák, director of IT4Innovations, said.
"This modernization will increase our capabilities and help us address this problem. At the same time, Czech scientists will have a state-of-the-art technology that will enable them to keep pace with the rest of the world."