Polish data center firm Atman is planning a third Warsaw campus.
This week Atman announced it has purchased a 5.5-hectare plot of land to build another data center campus located in Duchnice near Ożarów Mazowiecki, to the west of Warsaw.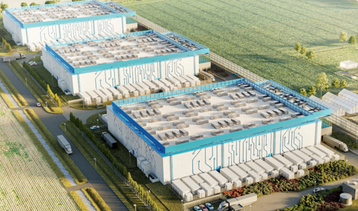 The Atman Data Center Warsaw-3 (WAW-3) campus will consist of three buildings housing a total of 36 data halls – nearly 19,000 sqm (204,500 sq ft) of colocation space. The WAW-3 campus will have a target IT capacity of 43MW and the first building is scheduled to open in Q4 2024.
"Atman's completion of the purchase of the land for its fourth data center location follows our long-term investment strategy. In a broader perspective, it is also a contribution to the development of the domestic data center market, which is attractive to customers of all scales and competitive when compared to mature Western markets," said Sławomir Koszołko, president of the management board of Atman.
Atman (formerly ATM) was acquired by Goldman Sach's affiliated Global Compute and Taviomer Investments from MCI.EuroVentures in 2020. The company currently operates three sites across Poland; two in Warsaw and one in Katowice.
Earlier this year the company announced plans to expand its Warsaw-1 campus with a new 7.2MW, 2,916 sqm (31,390 sq ft) building. The building, known as F7, is due to be commissioned in February 2024.