Satellite firm Astranis has officially announced a new range of small geostationary (GEO) satellites to provide supplementary broadband coverage.
Founded in 2015, California-based Astranis develops small – around 350kg – GEO communications satellites that are much smaller than traditional GEO machines, which can weigh multiple tons.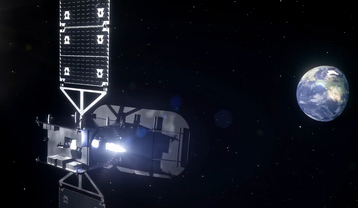 Astranis this week officially announced UtilitySat, a multi-mission commercial microGEO satellite the company said was capable of conducting multiple fully-operational broadband connectivity missions.
"UtilitySat can provide connectivity on standard Ku, Ka, and Q/V bands, and has the flexibility to dial in exact frequencies using Astranis's proprietary ultra-wideband software-defined radio," the company said in a Medium blog post. "It can also relocate dozens of times around the GEO belt over its lifetime. It does this using our unique onboard dual-propulsion architecture, which includes both a chemical monopropellant system and an electric ion thruster."
In development for two years, the company suggests the new machine provide bridge capacity for a customer that is waiting for a dedicated satellite, as an on-orbit spare, provide disaster support, or offer surge capacity during busy periods.
"In initial conversations with customers for UtilitySat, we've seen huge demand — these customers often want to lease the entire capacity of the satellite once they learn what UtilitySat can offer," said John Gedmark, co-founder & CEO of Astranis. "Customers need all the capacity they can get, and new capacity that can be deployed on short notice is a huge deal and a huge departure from traditional GEO satellites."
The first mention of Astranis's UtilitySat came last month after the company said it would use one to fill the coverage gap left after its debut Arcturus satellite suffered a malfunction.
In April this year, the company successfully launched its first commercial satellite, Arcturus, into orbit to provide Internet to Alaska for local telco Pacific Dataport. The machine was set to offer 7.5Gbps of throughput in the Ka-band.
However, the company this week announced that an issue with the system that controls the Arcturus satellite's solar panels means it doesn't have enough power to provide constant connectivity services.
Instead of immediately sending a full-sized replacement, it will be sending a UtilitySat later this year that can act as 'a bridge' to a full replacement satellite. Though it won't fully replace Arcturus' capabilities, a full replacement for the problem satellite is expected to be delivered in early 2025.
In other satellite news:
- SES is to conduct extra tests before launching its next pair of O3b mPower satellites after investigating a glitch that is sporadically tripping off power modules on its first four units that are in orbit. Originally due to launch in June, the two satellites are set for a September launch.
SES has completed its C-Band clearing. The company this week confirmed that the US Federal Communications Commission (FCC) has validated the certification of SES's Phase II accelerated C-band clearing and relocation activities.
SES has also been chosen as a telecommunications partner by the Taiwanese government and will deploy more than 770 satellite terminals at home and abroad by the end of 2024.
- Viasat is still working to assess how much capacity it will be able to push through its new ViaSat-3 Americas after the machine suffered an issue with its antenna. The company is looking to turn its focus away from the fixed residential market towards mobile services such as aviation.
- Intelsat has successfully launched its latest Galaxy-37/Horizons-4 satellite. The satellite comprises a C-Band and a Ka-Band payload.
- Eutelsat and Thai satellite firm Thaicom will jointly fund a new software-defined satellite in orbit above Asia. The satellite is set to launch in 2027, with Eutelsat committed to lease and operate the service for half of the capacity on the new satellite during its 16-year expected lifetime.
- KSAT has a new, fully automated Ka-band Ground network optimized for Smallsat constellations. Powered by Ka-Band technology, the service will provide downlink capabilities of 10 Gbps.
The tri-band satellite communication network intends to enable seamless communication across multiple frequency bands using a standardized 4-channel baseband unit integrating S-band uplink and downlink, X-band downlink, and Ka-band downlink capabilities.
The KSATlite Ka-band network will initially be deployed on 6 ground station locations with multi-mission ground systems.
- Yahsat has selected Airbus for two broadband GEO satellites. Al Yah 4 and 5, due for launch in 2027 and 2028, will replace Al Yah 1 and 2, which were launched in 2011 and 2012.
- Dish Network is seeking permission to use 12GHz spectrum for fixed terrestrial broadband in the United States.
- Lockheed Martin has opened a 20,000 sq ft facility at the company's Waterton campus in Colorado for outfitting up to 180 small satellites per year.
- KKR is to buy a minority stake in space tech provider OHB. The Fuchs family, which holds just under 70 percent of OHB, will keep its shares and remain majority shareholders.
- Frontgrade Technologies is acquiring Aethercomm, California-based manufacturer of high-power amplifier modules and switches.
- Azerbaijan space agency Azercosmos has signed a hosting services deal with Chinese firm Emposat, which has 7.3-meter S/X-band terrestrial antenna at Azercosmos' main Satellite Ground Control Station. Emposat previously installed a 4.2m S/X-band terrestrial antenna at the site.