A new immersion cooling platform and cooling fluid have been jointly announced at the Open Compute Project's virtual conference (OCP) May 12-15.
The new Shell Immersion Cooling Fluid S5 X was made public at an Asperitas talk at OCP in conjunction with Asperitas's new liquid cooling device, the AIC24 21". The liquid, designed by Shell, is a synthetic, single-phase immersion cooling fluid made from gas using Shell's gas-to-liquids technology and designed in partnership with Asperitas.
The OCP Summit was shifted online when the Covid-19 pandemic made in-person gatherings impossible.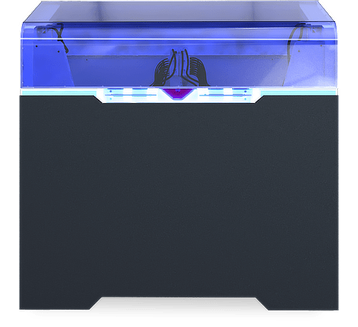 Gas to liquid
Shell's immersion cooling fluid is designed to reduce energy costs and emissions due to its thermodynamic properties and will be made available across the immersion cooling market.
Eduardo de Azevedo, Shell product application specialist for immersion cooling fluids, said: "We are excited to bring this new product to the market.
"Our immersion cooling fluid can help to cut data center energy consumption and reduce carbon dioxide emissions. Our gas-to-liquids technology is a sustainable alternative for the immersion cooling industry."
Rolf Brink, Asperitas CEO, made a statement about the partnership with the petroleum company. He said "Shell is our trusted partner for developing the immersion cooling fluid, a preferred partner for deployments and quality monitoring.
"With their decades of experience, there is a tremendous amount of value for our customers and strategic partners we can offer together".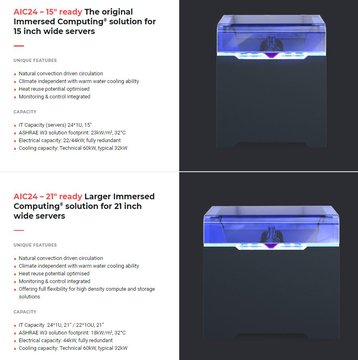 A bigger tub
The new Asperitas product is essentially larger: it can accommodate 24 servers which are 21in wide, whereas the original could only hold 15in wide servers. This new AIC24 is described as a natural-convection-driven immersion cooling solution, but the statement by the company also says the cooling fluid can be used in the pump/forced circulation systems of other providers.
Similar to its smaller, but older brother, the new product can be used for climate independent free cooling up to 48 degrees Celsius, and is also ready for heat reuse, with more than 98 percent of the energy transformed into hot water. Each system comes with a smart sensor-based monitoring and management control system.
Asperitas says the cooling system is designed to meet the demand for high density compute both on a system and server level.
Dell partnership
At the OCP Virtual Summit, Asperitas will also present a new open server immersion cassette format for original equipment manufacturers (OEMs) for immersion server development. Asperitas has announced it is working with Dell Technologies on this new cassette with some of the first product announcements expected this year.