Arm has told its staff to suspend business with Huawei and its affiliates, according to internal documents obtained by the BBC.
The Japanese-owned, UK-based company is not covered by the US Commerce Department ban that forbids US companies from selling parts, components and services to Huawei without government approval. But an Arm company memo said its designs contained "US origin technology."
It is unknown whether Arm took the move as a precaution and may be able to reverse the decision without falling foul of the Commerce Department.
While the US has given companies 90 days to sell equipment to Huawei for maintaining existing products, Arm has not told staff to resume sales.
"Arm is complying with all of the latest regulations set forth by the US government," a spokesperson told the FT. "No further comment at this time."
ByeSilicon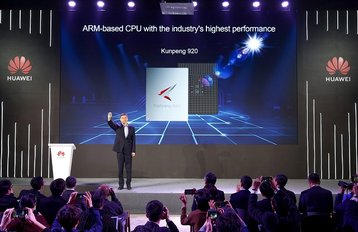 Arm instructed employees to halt "all active contracts, support entitlements, and any pending engagements" with Huawei and its subsidiaries to comply with the trade sanctions.
The move follows US companies ceasing sales to Huawei, including Intel, Qualcomm, Xilinx, Broadcom, Qorvo, Micron Technology, Western Digital, and Lumentum Holdings.
Unlike most semiconductor companies, Arm does not sell Arm processors - instead it licenses its IP to other companies, such as Qualcomm, Xilinx and Marvell. Those companies then design their own products including Arm-designed processor cores, which they sell - with more than 130 billion Arm processors sold to date.
Arm also licenses - or rather, licensed - to Huawei. The Chinese telecoms company has relied heavily on Arm designs for its own chips, including for its Kirin smartphone processors, and its Kunpeng 920 server CPU, which it claims is the "highest performance Arm CPU" available.
Huawei's wholly owned fabless semiconductor company HiSilicon, which licenses Arm, is thought to be the largest domestic designer of integrated circuits in China.
The severing of ties between Arm and Huawei is not expected to impact existing products, however, with the licenses already agreed. Future chip development will be impacted as long as the ban remains, though, making it difficult for Huawei to design newer generations of its product portfolio.
A Huawei spokesperson said in a statement regarding Arm's move: "We value our close relationships with our partners, but recognize the pressure some of them are under, as a result of politically motivated decisions. We are confident this regrettable situation can be resolved and our priority remains to continue to deliver world-class technology and products to our customers around the world."
For a comprehensive look at the story behind the ban, and the history of US-led accusations against Huawei, be sure to read our in-depth feature on the subject