Arianespace launched the Eutelsat Konnect VHTS satellite into Geostationary Transfer Orbit.
The satellite was launched this week from the Guiana Space Centre in Kourou, French Guiana, using the Ariane 5 rocket. It was built by Thales Alenia Space in order to provide fixed broadband and mobile connectivity across Europe, North Africa, and the Middle East.
The satellite can deliver 230 beams and has a Ka-band capacity of 500 Gbps. Compared to its predecessor satellite, Eutelsat Konnect which was launched in 2020, the new satellite offers seven times the capacity. It is the largest geostationary satellite order by Europe to date.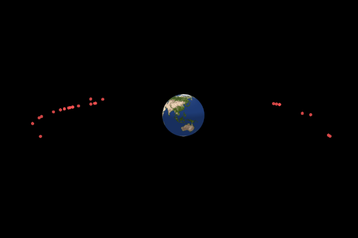 Customers that have already committed to utilizing the new satellite include Orange via its Nordnet affiliate for French coverage, Telecom Italia Mobile over Italy, and Thales Alenia Space to serve the government connectivity services.
Eutelsat's CEO, Eva Berneke, said of the launch: "Our congratulations to Arianespace and the Guiana Space Center teams for successfully launching our Eutelsat Konnect VHTS satellite into geostationary orbit. Thanks to this fine-tuned collaboration between three French players of excellence, Eutelsat, Thales Alenia Space, and Arianespace, we are able to bring connectivity to the next level in Europe."
Stéphane Israël, CEO of Arianespace, added: "With yet another successful launch, Arianespace is proud to have placed in orbit, for the 37th time since 1983, a satellite for the operator Eutelsat."
According to Israël, the Ariane 5 only has three missions left before retirement.
Earlier this year, DCD reported that Eutelsat was merging with Low Earth Orbit satellite operator OneWeb. This latest launch, along with the merger, will bring the companies' combined fleet to a total of 37 GEO satellites and 648 LEO satellites once all of OneWeb's machines are launched.
More in The Telecoms & Connectivity Channel