Amazon Web Services has received planning permission for three new data centers in Dublin, Ireland.
The application, filed by Universal Developers LLC for Amazon to Fingal County Council back in January, is for seven-year planning permission for development on AWS' existing site at Cruiserath Road in Dublin.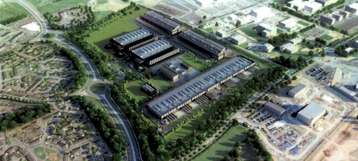 The company received permission from the council earlier this week.
Amazon sought permission to construct three data center buildings on a 65-acre site: Data Centre E, Data Centre F, and Data Centre G, with a gross floor area of 1,425 sqm (15,350 sq ft), 20,580 sqm (221,520 sq ft), and 20,580 sqm respectively, each over two levels.
Building E will see one new generator installed, while Buildings F and G will see 19 installed. AWS said it aims to install beehives on the site to boost sustainability efforts, and solar panels are planned for the roofs of F and G. Heat recovery systems will warm the office buildings. The company will also look to procure 'renewable diesel' for backup fuel.
At the time of filing, the company said work would be due to start later this year, with Buildings F and G expected to come online in 2025 and 2026.
It seems the company had already secured a grid connection with EirGrid for the buildings in 2019, meaning the facilities avoid the capacity crunch afflicting other new developments in the city. According to documents in the filing, the new buildings will have a combined power load of 73MW.
The company was previously granted permission for two more two-story buildings totaling 21,705 sqm (233,630 sq ft) each in 2019, by which time the designs had seemingly merged four of the planned buildings into two. Those two buildings are currently under development. Buildings A, B, and C are data centers, and Building D is the on-site substation.
One further building, estimated to be another 20,580 sqm development, is expected in the future according to the latest filings. At full build-out, the campus will provide around 220MW of capacity.
Amazon also operates other Dublin campuses in the Clonshaugh Business and Technology Park, in Fingal County's Blanchardstown, and one further south in Tallaght. The company has reportedly paused some projects in Dublin due to the moratorium on new grid connections and at others is looking to rely on other power sources.
Servecentric seeks to build Dublin data center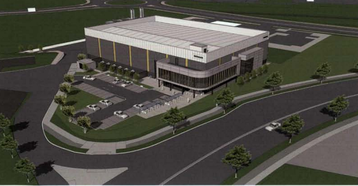 A couple of miles away, Fingal County Council recently received an application from Servecentric to develop a data center on land in the Blanchardstown Corporate Park in Ballycoolin.
Founded in 2002, Servecentric is an Irish colocation and managed services provider. The company currently offers services from a Digital Realty facility – DUB10 – located in the Blanchardstown Corporate Park less than a mile away from the proposed development.
The company is seeking to develop a two-story data center and substation on an undeveloped 1.9-acre site currently permitted for a warehouse/logistics unit.
The building would consist of two data halls. While the building height would decrease, the gross floor area of the previously permitted building will increase by c. 2,931 sqm to c. 6,524 sqm (70,225 sq ft) primarily due to the inclusion of the first-floor level mezzanine.
Filings around the generators suggest the facility will offer just under 9MW of capacity.
The site would use HVO instead of diesel to power the backup generators and include solar panels on the roof.
The council received the application in late June and has since requested more information.