Tethered balloon company Altaeros has partnered with blockchain-based telco World Mobile to provide balloon-based wireless connectivity in Africa.
Under the agreement, the two companies will launch Altaeros' Aerostats (tethered balloons/blimps) to provide Internet coverage to Zanzibar.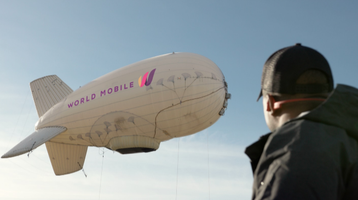 The companies say the Aerostats can each cover 8,000 square km – Altaeros has previously told DCD each of its SuperTowers can cover the same area as around 15 terrestrial cell towers – so in theory the roll-out of a single blimp should cover most of the Zanzibar's 1,666 square km Unguja island.
It plans to have 20 mesh sites – local WiFi nodes – rolled out by January 2022 and 120 sites during the first six months of 2022, including the first aerostat balloon launch. The roll out will cover approximately 75 percent of Unguja Island.
Founded in 2010 as a spin-out from MIT and including SoftBank as one of its investors, Altaeros' SuperTower Aerostats are helium-filled tethered blimps that are usually connected to a base via power and fiber cables; they can carry a payload of 660 lb (300kg) and power 1kW of equipment, and operate in winds up to 63 mph (100 kmph) at a height of 1,000 ft (305 m). The machines can automatically adjust their positioning based on the wind direction. The towers for this roll-out will reportedly be solar powered.
"We're on a journey to bring modern infrastructure to billions of un-served and under-served people around the world," said Altaeros CEO/CTO Ben Glass. We're driven by a belief that business and technical innovation are the keys to creating a positive, scalable impact. World Mobile is the perfect partner to work with to deliver our vision."
World Mobile is a blockchain-based telecoms provider; it installs decentralized privately-owned nodes that create a mesh network using unlicensed spectrum to provide coverage to end-users; certain nodes eventually connect to a traditional telecoms network for backhaul. As well as providing connectivity, the company offers blockchain-based ID and a cryptocurrency wallet to each end-user. End-users pay for connection & services via the World Mobile Token, which is paid to node owners. Each air node can reportedly provides WiFi Internet to 500 to 700 people.
World Mobile Founder and CEO Micky Watkins added: "World Mobile is on a mission to connect the unconnected and build the first mobile network powered and run by the people. Working with leading tech partners who share our values will make us stronger."
Though World Mobile says it has a proof of concept working in a fishing village in Zanzibar, it is yet to fully launch. According to the company's site, it is targeting full coverage in Zanzibar by Q4 2022 and have some 200,000 users. It then plans to expand to mainland Tanzania before expanding to 12 countries in 2023. The company raised $40 million via a token sale last year.
World Mobile said it is "in discussions" with government officials in Tanzania and Kenya, as well as other territories "under-serviced by traditional mobile operators."
"World Mobile's service launch of affordable internet service in Zanzibar will be a game changer allowing the vast majority of Zanzibaris to fully participate in the digital revolution," added Said Seif Said, Director General of Zanzibar's e-Government Agency.