Aligned is developing a new data center at its campus outside Salt Lake City, Utah.
The US data center firm has acquired a 'new multi-megawatt site' in the Salt Lake Metro Area, to in order develop a new build-to-suit facility.
The company currently has two data centers on-site at its campus in West Jordan, and this SLC-04 facility is being built in advance of a third master-planned facility.
Aligned said the project is forecasted to meet a six-month construction timeline be completed in December of this year.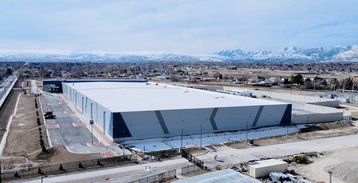 The company says its new Aligned SLC-04 facility will combine its Delta3 cooling technology with a waterless heat rejection system.
"Our latest Salt Lake data center is an example of Aligned's ability to provide agile Build-to-Scale solutions focused on driving optionality, reducing added cost and risk, and enabling industry-leading construction timelines and quality," says Andrew Schaap, CEO of Aligned. "In addition to speed and scale, the development also satisfies our customer's requirement for water conservation, while still delivering industry-leading Power Usage Effectiveness (PUE). Combined with our ultra-efficient Delta3 cooling technology, Utah's cold desert climate enables us to deliver a waterless data center solution."
Aligned opened its SLC-02 facility in March of this year. The facility, built on a greenfield site, has 48MW power, expandable to 60MW, and 240,000 sq ft (22,300 sq m) of space. SLC-01 is 300,000 sq ft (27,900 sqm) and has 34MW of capacity.
The company's Delta3 system is a cooling array which draws large amounts of air slowly through the facility to remove heat, saving energy over systems that require fast-moving air.
Last month the company secured an extra $250 million in sustainability-linked debt, where the interest rates are linked to ESG goals. This was in addition to the $1 billion the company previously secured, after meeting all of that loan's sustainability targets.
More in Construction & Site Selection