Asia-focused hyperscale data center company AirTrunk has broken ground on the construction of its TOK2 data center.
The 110MW+ hyperscale facility in West Tokyo, which was first announced back in May, will span more than 4.6 hectares of land.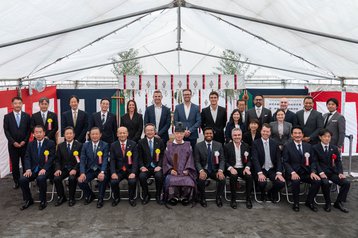 A traditional groundbreaking ceremony, known as a jichinsai, was performed by a Shinto Priest, which included rituals to spiritually purify the site, paving the way for safe and smooth construction.
It becomes AirTrunk's second existing data center in Tokyo after TOK1, which is in the east of the region. The first 30MW phase of that campus opened in November 2021.
AirTrunk secured a green loan to fund the development of TOK2, with the company claiming this to be the first green loan for a data center in Japan.
The TOK2 data center will have a PUE of 1.15. No expected opening date has been shared by the company so far.
TOK2 will become the company's eighth data center, joining three facilities in Sydney and one in Melbourne, Australia, and one each in Singapore, Hong Kong, and Tokyo that will collectivity offer 1.2GW of capacity at full build-out.
More in Cloud & Hyperscale
More in The Data Center Construction Channel