AirTrunk is to build a second data center campus in Tokyo, Japan.
The company this week announced plans to build a new 110+MW hyperscale data center in West Tokyo, named AirTrunk TOK2 (TOK2).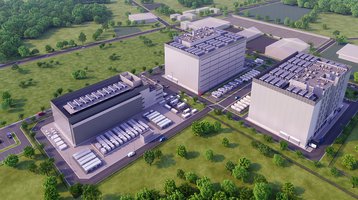 AirTrunk said the new facility will be servicing a major cloud availability zone. It will be built across more than 4.6 hectares (11.36 acres) of land and powered by dedicated high voltage substations. It will have a PUE of 1.15.
Timelines for delivery or building specifications were not shared.
"AirTrunk's new TOK2 hyperscale data center in West Tokyo, along with TOK1 in East Tokyo, will take our total capacity in Japan to more than 410MW, giving customers the unprecedented ability to scale and grow in the Tokyo region. The facility will be delivered with AirTrunk's trademark speed, scale, reliability, and efficiency," said AirTrunk founder & CEO, Robin Khuda.
The company has one existing Tokyo data center, known as TOK1, in the east of the region. The first 30MW phase of that campus opened in November 2021.
Located in Inzai Chiba Prefecture, the 13.25 hectare TOK1 site is scalable up to 300MW across seven buildings. The campus will have 56,000 sqm (600,000 sq ft) of technical data hall space, 9,600 sqm (103,000 sq ft) of office and storage space, and 42 data halls at full build out.
As with TOK1, AirTrunk will continue to work with Japanese construction conglomerate, Daiwa House Industry Co., Ltd on the development of TOK2.
TOK2 will become the company's eighth data center, joining three facilities in Sydney and one in Melbourne, Australia, and one each in Singapore, Hong Kong, and Tokyo that will collectivity offer 1.2GW of capacity at full build out.
AirTrunk's Head of Japan, Nori Matsushita added: "AirTrunk's multi-billion-dollar investment into the economy will support the Japan Digital Agency's path toward digitalization, contributing to the country's post-COVID recovery. We are also creating thousands of jobs in Japan during the development and ongoing operations of our data centers."