AirTrunk has opened a new data center in Tokyo, its first facility in Japan.
The new data center, known as TOK1, will have an initial capacity of 60MW.
Located in Inzai Chiba Prefecture, the 13.25 hectare site is scalable up to 300MW across seven buildings. The campus will have 56,000 sq m (600,000 sq ft) of technical data hall space, 9,600 sq m (103,000 sq ft) of office and storage space, and 42 data halls at full build out.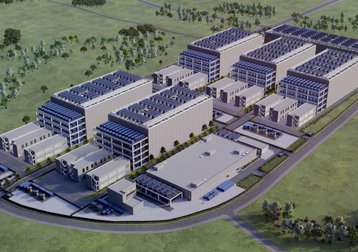 "The opening of TOK1 in the Tokyo region marks a major milestone for AirTrunk as we bring our market-leading speed, scale, efficiency, and reliability to Japan, supporting the country's digital transformation," said AirTrunk Founder and CEO, Robin Khuda.
"It's an incredibly exciting time to be bringing online a hyperscale data center of this size. Large technology companies, as well as enterprise looking to migrate from on-premise to the cloud, can now leverage the scale, security, connectivity and efficiencies of this world-class facility."
Announced in September 2020, The initial phase of TOK1 was delivered in only 45 weeks and built by Japanese construction conglomerate Daiwa House Industry. Khuda said the facility has been "more than four years in the making" and has secured "multiple anchor tenants."
The new data center is AirTrunk's first in Japan and sixth in total, joining SYD1, SYD2, and MEL1 in Sydney and Melbourne, Australia; SGP1 in Singapore; and HKG1 in Hong Kong.
TOK1 will reportedly have a PUE of 1.15 and features a 'solar-ready roof' equipped to add 4,000 sqm (43,000 sq ft) of solar panels that will be able to generate nearly 1 million kWh of power per year. The site also has a dedicated 66kV substation.
AirTrunk's chief technology officer Damien Spillane added: "As we deliver digital infrastructure that is both scalable and sustainable, new data centers like TOK1 give us the opportunity to develop new and innovative solutions that drive efficiencies for our customers and reduce our carbon footprint."
Earlier this month, the company announced a third Sydney data center that will total 320MW at full build out.