AirTrunk has broken ground on an expansion of its TOK1 campus in Tokyo, Japan.
"We've broken ground on the third phase of AirTrunk TOK1, a 300+MW data center in East Tokyo," the company said in a short announcement this week. "The 55+MW building is being purpose-built for a new large technology customer."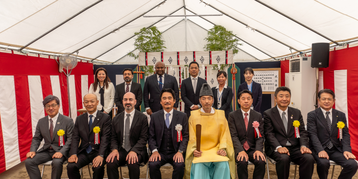 A traditional "jichinsai" Shinto groundbreaking ceremony was attended by senior AirTrunker staff and construction partners, to spiritually purify the land, in preparation for safe and smooth construction. Timelines for completion weren't shared.
Located in Inzai Chiba Prefecture, the 13.25-hectare site is scalable up to 300MW across seven buildings. The campus was originally set to have 56,000 sqm (600,000 sq ft) of technical space across 42 data halls at full build-out. The company's website now says the campus will span 80,000 sqm (861,110 sq ft) of white space across 102 data halls.
Announced in September 2020, the initial phase of TOK1 was delivered in only 45 weeks and launched in November 2021.
The company has a second campus in Tokyo, known as TOK2. First announced back in May 2022, the company is concurrently working on the first two buildings on the site.
As well as the two Tokyo campuses, AirTrunk has data center campuses in operation and development in Singapore; Hong Kong; Johor, Malaysia; Sydney (x3), and Melbourne, Australia.
AirTrunk has been busy in 2023. June alone has seen the company announce plans for a new building in Hong Kong and break ground on a large expansion at one of its campuses in Sydney.
More in Construction & Site Selection