Aire Networks has opened a new data center in the Spanish city of Malaga, in Andalusia.
The new facility, located in the Malaga TechPark, was inaugurated last week. Specifications weren't shared, but the company has spent €2.5 million ($2.6m) on the project.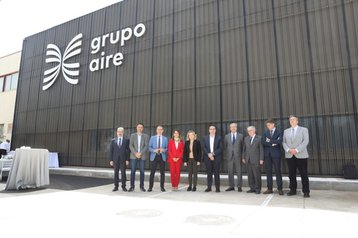 "Today we celebrate a milestone in the cloud and digital evolution of Malaga and Andalusian companies: we have inaugurated the new data center of OasIX at the Málaga TechPark," the company said on LinkedIn. "Its implementation will have a direct impact on the local economy of both Malaga and the Community, promoting the development of companies in the sector with a more competitive, efficient, and productive market."
The inauguration ceremony was attended by Rogelio Velasco, Minister of Economic Transformation, Industry, Knowledge and Universities; Felipe Romera, director of Málaga TechPark; and Raúl Aledo, CEO of Grupo Aire and Aire Networks.
"We continue to make progress in our firm goal of creating a network of proximity data centers and cloud services capable of offering maximum benefits to both companies and public administrations," said Aledo. "Years ago Malaga began to become a unique technology hub in Spain and with this important initiative, we do our bit when it comes to promoting business growth around our DPC (data processing center). A data center that has worldwide hyperconnectivity, with all the possibilities that this offers. Malaga and the Community of Andalusia are from today, without a doubt, more attractive to attract investments and talent".
The company broke ground on a new facility in Talavera de la Reinain the in Toledo region of Spain in December, after originally announcing plans for a data center there in April 2021.
OasIX is the Cloud and Data Centre division of Aire Networks, It operates data centers and occupies space out of colo facilities from more than 20 locations across Spain.