Defense giant Airbus' commercial high-altitude drone unit has partnered with Saudi telco STC to improve remote and rural connectivity in the country.
Airbus is developing Zephyr, a solar-powered high-altitude pseudo satellite (HAPS), which can be used to deliver communications services. While it will retain Zephyr for government and military purposes, the company aims to offer commercial communications offerings under the Aalto HAPS brand.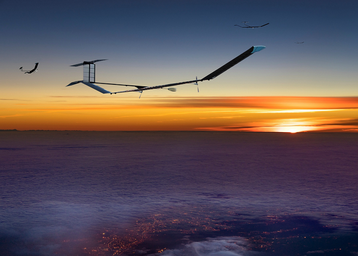 During last week's MWC event, Aalto announced it had signed a Memorandum of Understanding (MoU) with STC Group to enter a strategic partnership around 'introducing HAPS-based solutions' to Saudi Arabia.
HAPS can be airships, balloons, or fixed-wing drones like Zephyr, and are designed to stay airborne for months at a time and offer an alternative method of connectivity in rural and sparsely populated areas without the upfront costs of cell towers or satellites. The technology can also be used to provide temporary connectivity after traditional telecoms infrastructure has failed, for example after an earthquake.
The companies said STC will have access to Aalto's solutions once the company rolls out commercial services by the end of 2024, allowing the telco to expand its geographical coverage to unconnected rural and remote areas across the country.
Samer Halawi, CEO of Aalto, said: "We are very pleased to count STC Group, the leading digital enabler in the Kingdom of Saudi Arabia and a major player in the region, as one of our pioneering partners looking into HAPS as an efficient, sustainable, and an environmentally-friendly new stratospheric layer of connectivity to improve existing service; and add new reach beyond current infrastructure."
Motaz Alangari, STC Group's chief investment officer, said: "We look forward to working with Aalto. Zephyr has demonstrated a high level of maturity as a HAPS platform, and its innovation and sustainability are aligned with STC's values and objectives in designing the future."
The Zephyr, originally designed by defense group Qinetiq in 2003, was sold to Airbus in 2013. Since then, Airbus has been developing and testing the platform in order to prepare it for commercial use.
The latest iteration, Zephyr Z8, has a wingspan of 25m while weighing only 75kg. The HAPS is designed to fly at around 70,000 ft (21 km), above the weather and commercial airlines, and is powered by solar panels - enabling it to fly during the day and recharge its batteries which power it at night.
This year Airbus announced plans to spin out the commercial operations for Zephyr under the new Aalto brand.