Without the reliable and efficient movement of fluids, data centers, quite simply, would not function. But laying in conventional metal piping, even when it is ‒ by a large margin ‒ the most used alternative in the market, comes with challenges.
Metal's natural inclination to corrosion, which we have to acknowledge happens not only in the inner side of the piping system but also has a significant impact on the outer part, only gets worst when installed in areas with higher levels of air humidity.
Additionally, in zones prone to seismic activities, the rigidity of metal piping can lead to breakages in the event of an earthquake, while in areas of extreme weather, fluctuating temperatures can be just as problematic.
Georg Fischer (GF) Piping Systems is one company that is working to change the story, using rugged, sustainable thermo plastic piping [SB1] systems as an alternative to metal.
Immune from the oxidation and decay suffered by its metal counterpart, plastic piping provides equally sturdy, but far more future-proofed channels for the transport of fluids throughout data centers – even in the most challenging environments.
The level of corrosion risk in pipework is measured on a five-point scale from C1 (very low) to C5 (very high). In metal pipework, once you get to level C4 or C5, non-standard treatments are required to make them and keep them viable. C3 certified pipework is likely to support a 15-year lifespan, while C1 or C2 will offer slightly longer. All this assumes correct powder coating treatments and regular maintenance.
Surely there's a better way?
DCD spoke to Benjamin Sheppard, GF Piping Systems' business development manager for Data Centers, about the specific challenges to pipe infrastructure in regions and locations that can often be highly challenging.
"Like anywhere in the world, the majority of our cities and infrastructure are located around coastal areas. Wherever you are, hydrated ferric oxide is the type of standard corrosion you would expect from metal piping, but when you add coastland and marine conditions and, of course, salt from seawater to the mix; a combination of moisture, oxygen and salt (sodium chloride) rapidly increases the corrosion process," says Sheppard.
"Take Taiwan as one example, the majority of the island has its infrastructure on the west coast, which is classed as corrosion category C4 or even C5. Within Taiwan you have 15 submarine cables landing in seven cable landing stations and they all have corrosion levels of C4/C5.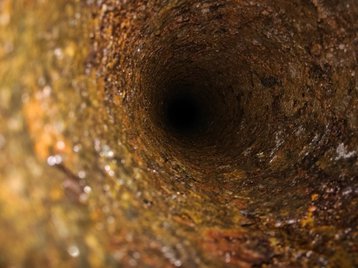 "Managing maintenance in such harsh conditions is time consuming and costly. Plastic pipe systems are our solution: they don't suffer oxidation and consequential material degradation caused by contact with the general environment – inside or outside the pipe. That's why our solutions have a minimum 25 year design lifespan."
This extended lifespan can give added assurance to businesses when planning their data center infrastructure and/or mechanical designs.
"Regardless of C1-C5, we offer a 100 percent maintenance-free piping system. For example, on a traditional piping system periodic cleaning, with a frequency determined by the environment (C1-C5), slows down the speed of corrosion, but does not stop it. Plastic piping on the other hand, offers the same lifespan regardless of the environment."
Sheppard compares this to metal piping which starts degrading almost from the moment it is installed. "Degradation starts earlier with metal piping and, at some point, will affect the operation of the pipe as it loses capacity, thanks to build-up of residue. It doesn't matter whether the pipes are in constant use or not, the results are the same.
"With plastic pipes, the diameter of the internal pipe on commissioning is virtually the same throughout its entire life cycle."
Of course, depending on what type of liquid is being transported, there are variations, dependent on its velocity, pressure, temperature and so on. Brass pipes can transport water for more than 40 years, for example, while cast iron drain lines can have a longer lifespan – up to 75-100 years in some places. However, the fundamental problems remain – metal pipes corrode, collect residue and performance suffers, and in a 365-day operating mission critical environment, performance is everything.
Finding the right fit
"Plastic piping systems are 100 percent maintenance-free; they will not corrode. Of course, no one material is the ideal solution for all applications. Each type of thermoplastic material has differing physical and chemical properties.
"The optimal pipe system solution depends on a range of factors – fluid temperature, fluid flow rate, working pressure, chemical resistance, lifespan expectancy and location of the system – be that outdoors, indoors or even underground. Our in-house experts and online tools can be used to guide the decision-making criteria to ensure the correct pipe system is used with the optimum cost-performance ratio."
As we've already discussed, earthquakes are a significant risk factor for data centers in the APAC region, but plastic piping can withstand some of the issues posed by areas of seismic volatility.
"Metals, in general, do not have the ability to withstand deflections due to ground movement. The ductile performance, corrosion resistance and ability to resist deflections from ground movement, in particular, are essential characteristics of plastic.
"In addition, we work with state-of-the-art software, and have 60 years of experience. That means our engineering teams can run dynamic simulations and worst-case scenarios on a planned piping layout to determine whether the system will fail or remain intact, always making sure we meet the seismic specifications for each territory."
An additional challenge in the APAC region is its sheer size, encompassing a range of countries and myriad languages. Overcoming that requires a proper presence in a wide range of places and, therefore, local knowledge on the ground.
"We are lucky enough to be present in 11 countries with offices or representative offices across the APAC region, Australia, China, Indonesia, Japan, Korea, Malaysia, New Zealand, Singapore, Taiwan, Philippines, Vietnam.
"As well as that, we have production facilities in China, Malaysia, and Indonesia, and have OSM Fabrication locations in Malaysia, Indonesia, Australia and Taiwan. Being able to utilize all of these locations means we very rarely can't help, educate or communicate on some level with key stakeholders."
GF Piping Systems also solves the problem of finding talent in the region by making sure that its fabrication facilities can double as training facilities, offering certification on-site.
The arguments that Sheppard makes are strong. GF Piping Systems has already enjoyed considerable success bringing the benefits of advanced plastic piping to the data center sector.
The results mean that data center owners and operators of facilities have one less thing to worry about.
Non-corroding pipes make facility maintenance and operators smooth and straightforward in even the most challenging locations, with owners and operators secure in the knowledge that the elements won't hamper their ability to meet the demands of users for always-on data, with fewer reasons for outages. And as these facilities continue to grow, and demands for cooling increase, it's safe to say that this often-overlooked aspect of data center design is coming into sharp focus.
With superior lifespans, GF Piping Systems can also offer a more sustainable solution, lower costs in terms of maintenance and operation, and the ability to build and run data centers in areas close to renewable power sources, whether that's solar farms on salt flats, or hydroelectric power stations in windswept rugged terrain.
And with new and developing markets coming online, demands for low latency data connections will require localization of facilities in ever-more locations, many of them remote or relatively inhospitable. Ultimately, reducing the level of extensive maintenance required will enable data center operators to focus on what they do best: providing data connections for homes and businesses in every corner of the globe.
To find out more about GF Piping Systems' data center solutions click here.
More from GF Piping Systems
Why the inevitable shift to liquid cooling in data centers needn't be a pipe dream

Single-use plastics have been criticised for being environmentally harmful, but high-tech, long-lasting plastic technology in piping can enable energy efficient liquid cooling and much, much more

Training is the key to staying abreast of developments in an industry as fast moving as the data center sector, says Georg Fischer's Ian Waldock