Premier global construction company, Multiplex, has been named the preferred contractor to construct WAi1, Australia's most sustainable and only fully enabled AI data center in Perth, developed by GreenSquareDC.
WAi1 sets a new benchmark for sustainable design and performance in the Asia-Pacific region, aiming for a target Power Usage Effectiveness (PUE) of 1.1 – a significant improvement over Australian Government published data suggesting 'state of the art' data centers have a PUE of 1.5 and 'average' data centers have a PUE of 2.5.
This ground-breaking project aims to cater to customers seeking to bolster their environmental, social, and governance (ESG) initiatives, lower their Scope 1 to 3 emissions, and achieve cost savings within a highly resilient and flexible AI enabled cooling environment.
With the global demand for data continuously rising, data centers play a vital role in providing the backbone to our economic, commercial, and social lives. However, traditional data centers are also significant power and water consumers, with immense carbon dioxide emissions.
GreenSquareDC's core vision centers around sustainability, and the company's 'Five pillars to sustainability', provides a clear pathway towards achieving a true net-zero future for its customers with a goal of being water positive with no fossil fuels in operation.
Under the visionary leadership of Walt Coulston, founder & CEO of GreenSquareDC, WAi1 aims to transform the data center industry by integrating greatly enhanced sustainability and advanced AI enabled technology.
WAi1 will not only be Australia's first fully AI-enabled data center but will also be built in one of the world's most cost-effective energy regions, offering customers the most affordable workloads for either traditional or High-Power Compute (HPC) AI workloads.
Recent benchmarking suggests that Perth provides a circa $55m saving per annum when operating a 96MW data center compared to Sydney, when running on 100 percent certified green power. All such savings are passed through to the customer.
"We are thrilled to partner with Multiplex, a globally respected builder and clear industry leader," stated Walt Coulston. "Their track record in delivering premium quality infrastructure aligns perfectly with GreenSquareDC's core values and rigorous standards.
"Together, we are set to redefine not only sustainability, but also cost effectiveness, resiliency, speed to market and design flexibility in the data center industry and lead the way towards a leaner and greener AI enabled future."
"GreenSquareDC is committed to providing highly sustainable, affordable, and scalable AI-ready data center solutions to hyperscale, government, and wholesale customers who share a common goal of combating climate change. By engaging Multiplex, an internationally renowned contractor, GreenSquareDC ensures the highest standards of quality and expertise for our WAi1 customers.
"Together, Multiplex and GreenSquareDC aim to help customers overcome their Scope 3 emission challenges by constructing the project using low carbon concrete and other sustainable materials, dramatically reducing embodied carbon and removing thousands of tonnes of Co2 from the environment in the process.
"This is particularly relevant given the Federal Government recently announced mandatory Scope 1, 2 and 3 reporting, commencing in 2024. Australia's heavy industries are already liable for Scope 3 emission reporting and are actively seeking innovative ways to reduce their impact on lifecycle operations."
"In line with our global carbon commitment, Multiplex is focused on reducing embodied carbon in the projects we build, so we're excited to partner with GreenSquareDC on a shared sustainability vision for WAi1," said Chris Palandri, regional managing director at Multiplex.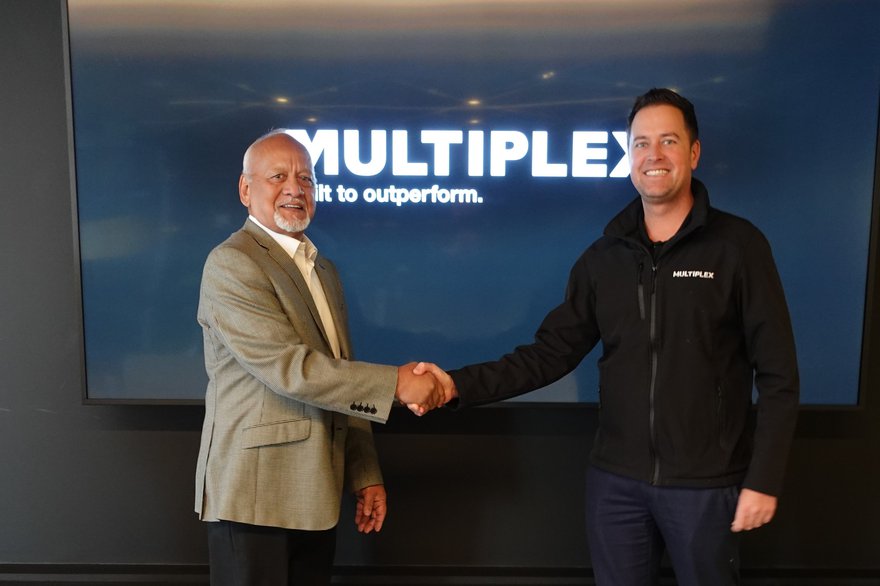 "WAi1 is a critical piece of digital infrastructure, coming to market at an inflection point with much greater demand for AI enabled data processing. We are proud of our long history in delivering many of Perth's landmark projects and are delighted to contribute our expertise in bringing this ground-breaking project to fruition."
The WAi1 project represents an exciting collaboration between GreenSquareDC and Multiplex, as well as other leading consultants and suppliers including Urbis, Greenbox, Deloitte, Schneider Electric, HPE, Nvidia, The Green Grid, iMasons Climate Accord and AIIA.
Stage one of the project will encompass construction of 'ultimate flexibility' data halls, allowing customers to scale up into either traditional air cooled, direct to chip or liquid immersion cooling environments, perfect for AI workloads.
Diesel fossil fuels have been eliminated, replaced with renewable diesel for backup generation, with green hydrogen and/or fuel cells being considered for subsequent stages. Certified 100 percent green power has been sourced from local suppliers with an onsite microgrid to provide additional resiliency and redundancy.
WAi1 also aims to provide a groundwater cooling loop, similar to CSIRO's Pawsey Supercomputer, which provides for wastewater free cooling at a lower cost and with lower emissions compared to traditional cooling tower designs.
GreenSquareDC's 96MW WAi1 project is strategically located in Belmont, halfway between the Perth CBD and Perth airport on a large, flat, regular block of nearly 40,000sqm. The project will be staged with two distinct buildings each providing 48MW of power.
The project is DA approved with up to 150MW of total power set to be available via two dedicated power supply lines direct to the transmission source, offering WAi1 customers the highest level of resiliency possible.
Additionally, GreenSquareDC is actively planning a proposed 200MW wind and solar farm on 3,100 hectares of land at East Hyden, aiming to provide net-zero renewable power to its customers – a pioneering initiative not matched by any other active data center operator in Australia.
To find out more about GreenSquareDC and Multiplex, visit: https://greensquaredc.com/ and https://www.multiplex.global/.
More from GreenSquareDC
Introducing the AI-ready data center helping customers achieve their decarbonization and wider ESG goals

As the world seeks to decarbonize, Western Australia can help meet increasing data demands while reducing emissions.

New company gets OK for first facility