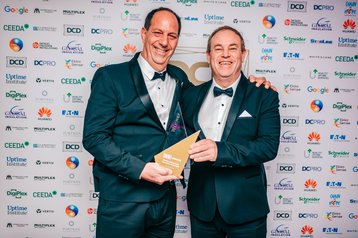 World-renowned provider of on-chip cooling technology ZutaCore has been awarded the Mission Critical Tech Award at the Annual Data Center Dynamics Awards 2019 for its HyperCool2 direct-to-chip cooling technology. The award category, sponsored by CBRE, celebrates innovations that solve complex mission critical technology issues facing the data center industry.
High performance computing such as AI and machine learning generates large amounts of heat, meaning dissipation is an increasingly important factor. The existing cooling technologies are rapidly approaching their maximum capacity, which limits further introduction of autonomous edge and central data centers.
ZutaCore's HyperCool2 direct-on-chip evaporating cooling technology integrates a unique combination of self-regulation, on-demand and low-pressure in a single system. This positions HyperCool2 as the perfect option for an Open19 platform. The HyperCool2 solution by ZutaCore is alleviating cooling boundaries in traditional assets, driving a revolution of data center computing densities on the third of carbon footprint, at significantly reduced costs.
The Enhanced Nucleation Evaporator is a single, closed-loop, two-phase, waterless liquid cooling solution yielding unparalleled heat dissipation. This innovative technology eliminates the risk of IT meltdown, demonstrating that HyperCool2 is a complete hardware system. This is supported by an enhanced software-defined-cooling platform, delivering consistently superior results.
Benefits of the solution
The plug-and-play solution is able to triple computing densities on a third of the footprint, consistently at the lowest PUE and the highest efficiency, capable of working in any climate. The reduced data center design to commission cycle, and cost reduction means Open19 users can be central to the data center revolution.
The rigorous internal and external testing demonstrates a number of validated benefits including 0% risk of IT meltdown, x10 densification, x10 chip cooling efficiency and both 50% and 70% reductions in CAPEX and OPEX respectively.
The elegance and simplicity of the HyperCool2 technology is demonstrated throughout the supply chain, from design and engineering through to commissioning and maintenance. The high quality components and global availability of the system means users are empowered to accelerate return on investments and maximize asset efficiency, with a fully future-proofed technology.
Proof of Innovation
Designed by a veteran team, the HyperCool2 technology is enabled by multiple new, innovative elements across the entire system. Open19 is providing the industry with the first Open19 compliant liquid cooling system using HyperCool2 technology.
ZutaCore's product combines precision delivery of cold plate cooling and evaporative refrigerant. While similar mechanically to classic cold plate technology, HyperCool2 leverages latent heat. This process removes thermal energy from the chip, which then causes heat rejection resulting in the coolant flowing to the condenser, cooling and becoming liquid. The resulting phase means the liquid is pumped back again at low pressure.
The effect of this low-pressure, direct-contact process means a high cooling capacity with small amounts of coolant. ZutaCore's HyperCool2 needs significantly less coolant liquid compared to a typical immersion system. Additionally, the HyperCool2 system also reacts in a self-regulatory fashion to changes in processor heat dissipation. This high level of control allows the customer to choose target temperatures and the level of cooling performance needed.
HyperCool2 is positioned to uniquely address server level hot-spot challenges, and enables high computing densities as part of the Open19 extreme project.
Who were the other finalists?
More from DCD>Awards 2019