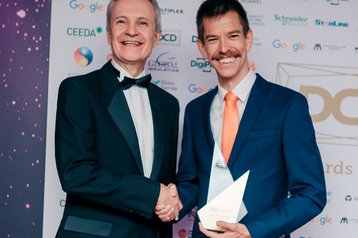 Australian energy exploration technology company DownUnder GeoSolutions has won this year's Enterprise Data Center Design Award in the face of stiff international competition for its largest supercomputer to date, deployed at Skybox Datacenters in Houston, Texas.
DUG's capabilities include seismic data processing, depth imaging, and modeling, all of which require enormous computing power delivered through a network of supercomputers in data centers in Perth, London, Kuala Lumpur, and now Houston.
"The project stood out for the innovation and the technical expertise shown by the team," said Bill McHenry, Head of Critical Systems at JP Morgan, one of the judging panel. "I was very impressed by how the group had identified an exacting processing requirement and filled the need by adapting a refined technical solution. They have taken a coming technology to another level. I look forward with keen interest to future developments."
This awards category sponsored by DigiPlex, a major Nordic colocation provider, saw strong competition from China and India where enterprise-class data centers continue to be built at scale. Details on the other finalists for this category can be found lower down on this page.
What's special about the McCloud project?
At 250 Petaflops (250,000,000,000,000,000 floating-point operations per second) capacity, the Down Under GeoSolutions 15MW High Performance Cluster requires significant power and heat rejection systems to operate.
Completely designed in-house, the DUG HPC is cooled by complete immersion in a dielectric fluid, specifically selected to operate at raised temperature conditions, whilst maintaining superior semiconductor temperatures & temperature stability making it the greenest solution in the world.
Many efficiency initiatives were adopted ranging from the innovative immersion cooling system to adopting European power standards in order to optimize transmission efficiency - no stones were left unturned. By implementing DUG's patented immersion cooling system and utilizing high cooling medium temperatures, the heat rejection systems serving the HPC operates at 95 percent free cooling all year-round with the refrigeration systems only provided for technician comfort conditions.
The resulting data center design provides superior consistency in equipment temperature, allowing the data-center to "ride out" short cooling outages, and reduces cooling power requirements by 85 percent and headline facility power input by 46 percent compared to traditional air-cooled centers.
DUG's HPC achieves an average power density across the effective Data Hall space in excess of 8,500 Watts/sq m (910 W/sq ft) making it seven times more dense than conventional high-density data center space.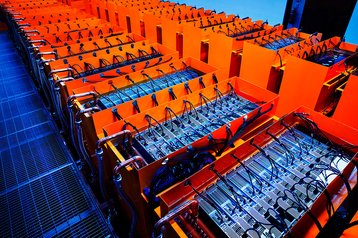 Proof of Innovation
The immersion-based cooling system supporting the Down Under GeoSolutions High Performance Cluster completely replaces the computer's reliance on low density, low specific heat circulating air for cooling. The dielectric fluid cooling system not only reduces design power requirements for both cooling systems (85 percent reduction) and the headline data center power installation (46 percent reduction), it also reduces online energy consumption (MPUE improved by 82 percent), refrigerant use (90 percent reduction), greenhouse gas emissions and system complexity, whilst significantly improving the consistency of operation temperatures, system reliability for less construction cost.
The cooling solution is approaching the theoretical limit of cooling efficiency.
By reducing the complexity of systems installed as part of the heat rejection systems, potential paths of failure commonly associated with conventional systems have been completely eliminated. Systems are designed to safely fail to a "maximum heat rejection" mode in the case of control system or telemetry failure, ensuring the robustness of cooling systems serving the production data center equipment.
Energy consumption improvements, and subsequent emissions reduction, have been verified through systems modeling and online testing.
System reliability testing has been proven to maintain acceptable temperature conditions before shutdown for over 23 minutes during complete cooling-system failure, a significant improvement over comparable air-cooled systems.

Who were the other finalists?
More from DCD>Awards 2019