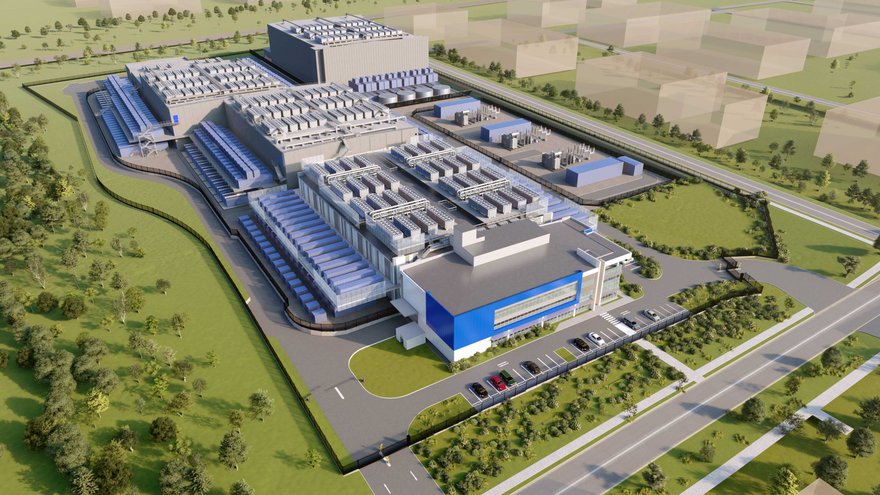 AirTrunk, one of Asia Pacific's largest neutral hyperscale data center operators, was awarded the Multi Tenant Data Center Design Award. Their flagship data center, SYD1, was opened in 2017 with a significant expansion completed in FY19. The increased demand for the companies hyperscale solutions has allowed AirTrunk to develop innovative approaches to data center design.
SYD1 is now Australia's largest data center by MW at 130MW+, equipped with new and innovative designs that increase speed of deployment, deliver industry-low PUE and ensure customers have the flexibility to customise, while minimising total costs. The unprecedented innovations developed for SYD1 include a 'hyperscale campus' concept, innovative cooling designs, bespoke customer solutions, containerised modular approaches to power distribution and a unique Data center Embedded Energy Network (DEEN).
What makes this data center design unique?
The customer-centric hyperscale design takes into account the diverse needs of large hyperscale cloud customers, and retail partners with enterprise customers. The hyperscale product has evolved significantly, with changes to enable scale, energy, speed, efficiency and cost-effectiveness.
SYD1 had a number of unique design considerations that were key for successful implementation and usage. Australia's notoriously hot climate meant heat rejection needed to be optimised in order to maximise real estate in constrained spaces. Additionally, the speed, size of power, efficiency of water and power and reduced cost needed to be integral to the final design as this would complement the increased hyperscale capability.
All these features needed to be included at an optimised, reduced cost that would improve economic viability and integrate completely with population nodes and cloud architecture. The proximity of the hyperscale centers was also integral in the design process.
Proof of innovation
The pioneering SYD1 hyperscale data center includes a number of innovative approaches to design and scale. The building design has been adapted to accommodate more than 130W of IT load, supported by modular and prefabrication techniques. The physical locality of the hyperscale campus means AirTrunk is able to scale whenever required, and quickly. The power systems, including a 132kv substation on campus, allows quicker deployment as it bypasses the necessary approval processes through utility providers.
The dual power feed supported by the substation ensures asset reliability if one network fails. This completely customised approach optimises the total power usage of the hyperscale campus and minimises total transmission loss.
AirTrunk's bespoke energy solution, DEEN, enables the customer to determine their own energy provider. This means customers hosted in the multi-tenant data center now have greater visibility of their consumption and PUE, as well as the ability to control procurement and contracting.
Focus on site selection allows AirTrunk to ensure ability to scale, suitability, latency and proximity to population nodes are all taken into account SYD1 is located in western Sydney, is carrier-neutral and is serviced by multiple fibre paths. The no waste approach also complements the site feasibility, meaning that no kw is wasted on campus.
These optimisations means AirTrunk has one the fastest deployment times in the industry, with drastically reduced construction time with the bespoke modular design. The consistent experience provided by AirTrun, from design through to on-going operations are consistent across the APAC region, which delivers high quality services to customers.
Who were the other finalists?
More from DCD>Awards 2019