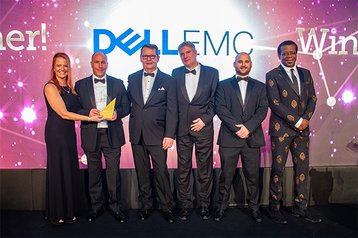 According to the European Automobile Manufacturers Association there were over 300 million vehicles on road in 2018 across Europe. Many of these vehicles are fitted with IoT devices that collect hundreds of gigabytes of data every day. A key problem with this is that tracking key data such as tracking car speed and motion, collecting maintenance and safety data and discovering potential manufacturing defects means the datasets are too large to transfer in real time, or to a centralised data centre.
Keysource, a critical environment specialist, collaborated with DellEMC to support multiple edge data centre deployments at key locations across the EMEA region in order to support edge local computation and data analysis for an automotive manufacturer.
Designed by DellEMC's Extreme Scale Infrastructure team, the micro Modular Data Centres (MDCs) used edge technology to improve vehicle performance through key analytical data captured by the connected vehicles. Keysource carried out the planning and deployment, and has been responsible for ongoing maintenance and facility management for the MDCs located in Finland, Dubai, Czech Republic and Germany. These MDCs have also been designed fit-for-purpose, meaning once 5G networks become the standard, the manufacturer is able to support the launch of future generation semi-autonomous vehicles.
The join Edge Data Centre service created by DellEMC and Keysource address key challenges associated with availability, scalability and latency through an innovative approach to edge deployment and management.
Whats special about the project?
The requirements of the automotive manufacturer required the deployment the infrastructure to be 5G ready and fit for purpose. It also needed to be standardised for fast, large-scale deployment. This provided a number of unique challenges as it required a comprehensive global deployment model, as well as processes for both delivery and operational management.
The end user needed to be able to move, add or adapt the physical infrastructure to meet specific location requirements. The implementation of the MDCs meant that specific business requirements continue to be met as they change over time.
While 5G is not yet the standard, this project capitalises on highly agile and flexible infrastructure models so the user can adapt to network changes as they happen. The scalability of the project is both efficient and fast.
Proof of Innovation
In addition to the technical capabilities of the MDCs, the automotive company needed a total solution that is flexible enough to place in multiple geographic locations, be able to withstand varying extremes in weather and climate and retain raw data due to regulation compliance with various countries.
The mobilisation of the MDCs included multiple factors including coordinating local site planning and preparation, developing of power supply and mechanical services, handling and delivery of equipment and integrated systems testing, as well as system safety monitoring.
The innovative approach to planning and implementation allowed Keysource and DellEMC to deliver solutions quickly, and at scale. Centralising delivery and operations allowed the teams to reduce cost, and manage the risk more effectively. The streamlined process reduced average deployment time and allowed the user to access the edge technology sooner.
This full realised, real-world edge solution demonstrates the innovation and capabilities of edge computing infrastructure, and will allow the global automotive manufacturer to retain flexibility with the MCDs, while collecting vital information on vehicle performance, reliability and driver experience.
Who were the other finalists?
More from DCD>Awards 2019