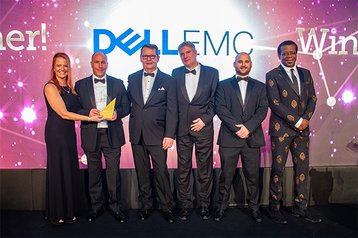 The micro Modular Data Centres (MDCs), designed by DellEMC's Extreme Scale Infrastructure team, helped a multinational automotive company in the roll-out of its connected vehicle technology - deploying semi-autonomous vehicles. Keysource, the critical environment specialist, collaborated with DellEMC to support multiple edge data center deployments at key locations across EMEA.
The goal was to use analytical data at the Edge to improve vehicle performance, reliability and driver experience. Keysource carried out the planned deployment and is responsible for the ongoing maintenance and facilities management for the MDCs at locations including Finland, Dubai, Czech Republic and Germany. The estate is also designed to be fit-for-purpose as soon as 5G networks become ubiquitous, at which point the manufacturer will use the estate to support the launch of a new generation of semi-autonomous vehicles.
The Edge Data Center service created by DellEMC and Keysource addresses key challenges associated with availability, scalability and latency, through an innovative design approach and application. This partnership, combined with the innovative approach to edge deployment and management, puts the customer experience at the forefront. It is highly agile to react to customer requirements with a global standard.
Proof of innovation
The connected vehicle market is rapidly evolving, so it is crucial that technology providers have the infrastructure in place to deliver innovations quickly, and at scale. This approach underpinned the collaborative work, with the installation and deployment of each edge data center taking place over just a few days. The solution is designed to be flexible enough for assured deployment in multiple geographic locations.
There are challenges on this front, not least in terms of regional differences in regulation, standards, time zones and local skills. Many regions for the deployment have extremely unforgiving environments with outdoor temperatures ranging from -35 degrees to 50 degrees Celsius (-31 degrees to 122 degrees Fahrenheit). In addition, users typically must design their IT infrastructure to retain raw data for multiple years, due to varying country-specific regulatory requirements, meaning that there was a need to consider the data center life-cycle in each location.
By centralizing the delivery and operations, the team were able to reduce costs and manage risk more effectively, compared to a model where local suppliers deliver aspects of deployment individually. This streamlining also resulted in a reduced average deployment time, allowing the user to be able to realize the technology's capability sooner.
The team were also able to optimize performance and prevent failures and mitigate against unseen costs through ongoing operational management of the edge facilities.
Key objectives met
It was fundamentally important that both the equipment and services were standardized for fast and large scale deployment. This was achieved by establishing a global model and processes for both delivery and operational management, providing the necessary standardization at scale.
With market change and user demand exponentially increasing, it was important that every opportunity to optimize the delivery process was taken, including manufacturing/stock, site preparation, installation and commissioning process.
Furthermore, latency by closing the data loop associated with a centralized model, to ensure faster connections for end users. The proposition by DellEMC and Keysource provides point solutions to overcome global latency requirements with a standardized service.
The project brief and resulting deployment has given the user the ability to add, move and adapt their physical infrastructure to meet location requirements. Crucially, due to the scale of the deployment, management approach to operating the global estate will ensure business requirements are met as they change. For instance, the edge network can be managed at different stages of its operational lifecycle or when there's a need for adjustment to meet different levels of criticality to the user/application i.e. suitability of that edge capability.
5G networks represent a major step change in the industry. The edge infrastructure will allow the car manufacturer to harness 5G, supporting the launch a new generation of semi-autonomous capability. This agility will be invaluable.
The DellEMC and Keysource partnership combined with the innovative approach to edge deployment and management puts the customer experience at the forefront. Purposely developed with in-house teams to be highly agile to react to customer requirements with a global standard.
"People need to be able to quickly and reliably gauge what an autonomous vehicle is going to do next. The vehicle must therefore provide information about its intentions in a way that people can grasp immediately and intuitively," says Alexander Mankowsky, a futurologist at Daimler
Who were the other finalist?