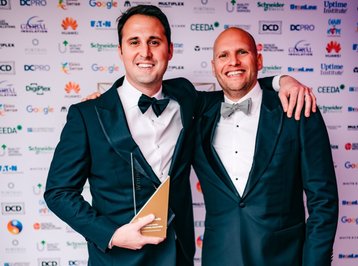 Salute Mission Critical, a project which transforms military veterans into world class data center technicians, has been recognized with the Corporate Social Responsibility Award from Datacenter Dymamics. Category sponsors Infrastructure Masons partnered with DCD to help acknowledge important projects and initiatives that drive positive change across the globe.
The result recognizes Salute as a premier IT data center lifecycle services company. Salute is able to deploy, manage and decommission data centers around the world with consistent, high-quality results, recruiting, training and supporting teams of veteran to do the work.
Starting in the USA, Salute has been enormously successful and has grown every year since its inception in 2013. US-based clients have now taken Salute services to countries including Canada, Argentina, Chile, The Netherlands, Ireland, Germany and England.
Of the veterans hired through Salute, a staggering 12 percent were homeless when hired, and having a highly skilled, technical job changed their lives. A career in a rapidly growing industry provides strong personal and professional growth. Finally, the diverse demographics of veterans provides a uniquely diverse workforce who embrace individual diversity and can operate in any environment.
Project Explained
Salute's core vision was to build a company that allowed veterans to enter into the data center industry and start long-lived careers. The shortage of critical skills in the industry helped drive the growth of the company, and the transition and training program proved highly effective. The added benefits of solving veteran unemployment and personnel shortages have driven greater results than initially expected.
With a focus on recruiting, training, deploying and supporting service personnel globally, Salute is uniquely positioned as a premier veteran training organization. A partnership with EdgeConneX demonstrated how these re-trained veterans can fulfil critical personnel needs to support the organization's global missions. The diverse workforce of veterans means they are easily deployable across the globe, with multi-talented, multi-lingual veterans being able to effectively work across different regions.
Salute also works with a number of other organizations in the data center industry to meet their human resource needs, as well as the needs of the veterans to place them in rewarding, valuable jobs. This is fulfilling for all parties involved, particularly for veterans who are able to secure a career and employment in an industry that continues to grow.
Reach
The dual benefit of finding employment for veterans and solving personnel issues for data center needs is a major driving force in Salute's success. The smooth experiences our partners have with highly-skilled veterans demonstrates the effectiveness of the highly technical training Salute delivers to it's veterans. As the veterans learn and grow, high-level positions become available with clients and they are able to work together to shape future careers.
The world class services delivered by Salute has an enormous positive impact on the lives of people, particularly veterans, who in turn have enormous positive impacts on the data center industry as a whole.
Who were the other finalists?
More from DCD>Awards 2019