Europe
Watch sessions on-demand
The virtual conference for the European data center industry
Tech showcase: New technologies to monitor, detect and protect
This session took place on November 11, 2020
Please complete the following form to access the full presentation.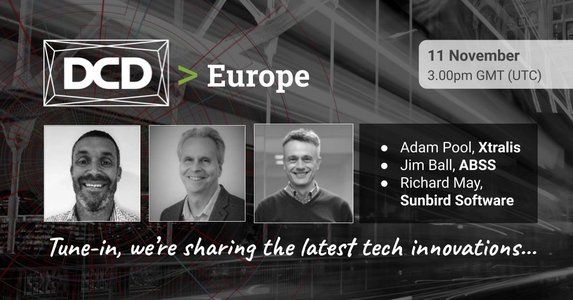 Tech showcase: New technologies to monitor, detect and protect
3:00pm - Xtralis: Challenges in Fire Detection - Data Centres
This CIBSE Approved CPD offered by Xtralis discusses the issues of conventional fire detection in the high risk electronic environment of Data Centres (DCs). It will cover the subject of the limitations of conventional spot type detection, the benefit of High Sensitivity Aspirating Detection and the importance of correct placement of sampling pipes. There will be a discussion around a typical application in the form of a case study.

3:20pm - Sunbird Software: Infrastructure Management in the New Normal
This presentation will provide an assessment of the "new normal" and practical steps you can take now to improve your infrastructure management. Work from home, data center access restrictions and shortages are the "new normal". This has created an unprecedented demand for your infrastructure services, limited the number of people in the data center and delayed the mean time to repair. You will learn the key technologies and best practices to implement remote infrastructure management to enable you to meet this challenge.
3:40pm - ABSS: Transparency, Visibility and Accountability for your Global Assets
Our patented application suite, Site Manager, is a fully integrated platform that manages your physical Infrastructure and its assets - providing visibility into your whitespace and work areas so that you can track, manage and audit multiple sites from a single source of data. You will be able to connect to this data source from your PC, laptop, tablet or smart-phone. In this video, Mike will provide an overview of the software, as well as an explanation of our Enhanced Cable Management system – which links real-time data from switch scans to your cabling and patching records.
Brought to You by