MODULAR UPS AND SMART-LI TECHNOLOGY - OPTIMIZING RELIABILITY AND FLEXIBILITY TO SOLVE THE CRITICAL POWER CHALLENGE
This session took place on April 2, 2019
Please complete the following form to access the full presentation.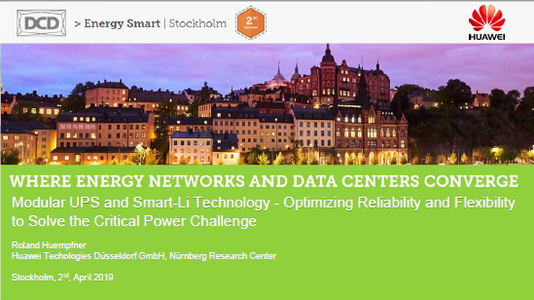 MODULAR UPS AND SMART-LI TECHNOLOGY - OPTIMIZING RELIABILITY AND FLEXIBILITY TO SOLVE THE CRITICAL POWER CHALLENGE
Fast digital transformation poses a challenge for data-center facilities. A reliable power supply solution is critical for zero service interruption. Modular UPS is now smartening up facilities with digitization and networking technologies.
Modular UPS tech has seen wide-spread adoption amongst telecom carriers in APAC - how do we learn from their examples and reap the rewards of this technology to apply it globally across the industry as a scalable solution? This session presented by Huawei's Roland Huempfner provides solutions to the inherent challenges.
Speakers
Brought to You by