Building the Edge
Stream on-demand
The hit series on edge infrastructure innovation & deployment
2 Years in 2 Months: How digital transformation at the Edge is demanding new management solutions
This session took place on April 14, 2021
Please complete the following form to access the full presentation.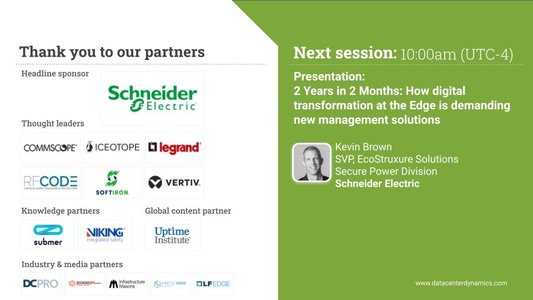 2 Years in 2 Months: How digital transformation at the Edge is demanding new management solutions
The way we work, learn, and live has changed dramatically in the past year, and that shift has created a greater dependency on the edge. When combined with accelerating 5G installments, the result is . . . little data centers everywhere. Companies will need to get a handle on a soaring number of distributed edge assets, formerly known as server rooms and wiring closets.
Ensuring resiliency requires a new type of management platform – one that is the eyes and ears of these lights-out sites, equipped with predictive analytics capabilities, flexible maintenance models, and automatic ways to keep hardware and software up-to-date and secure. In this presentation, we will discuss the management functions and attributes necessary for success while keeping sustainability top of mind.
---
Roundtable: What does edge actually mean for data center operators?
We invite you to join this roundtable discussion directly following this conference presentation to continue the conversation, get your questions answered, share your own insights and to find potential collaborators.
Brought to You by