Control & Automate
Stream on-demand
The must-watch series on advanced mission critical operations
Automation revolution - software-defined architecture for the data center
This session took place on March 18, 2021
Please complete the following form to access the full presentation.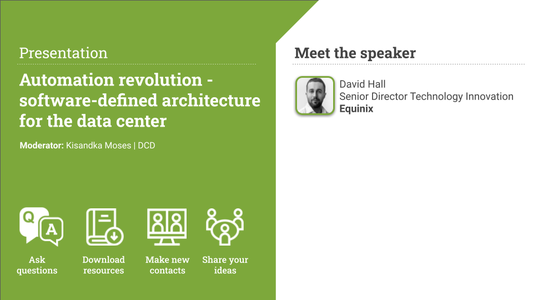 Automation revolution - software-defined architecture for the data center
Our critical infrastructure is preparing for a data onslaught as industries adopt new technologies such as AI, Blockchain, and IoT, but the CPUs and GPUs needed to cope are increasingly power-hungry. With inflexible power distribution, continued ease of operation is a struggle.
This session, led by David Hall from Equinix's OCTO team will provide a deep-dive into their 'software-defined-everything' model, focusing on power and cooling, with practical examples including how this can offer on-the-spot elasticity when it comes to managing energy systems and delivering on SLAs.
Speakers