A lot of commentators like to say that 2020 saw years of digital transformation telescoped into a short period, as users were forced to go online and forego traditional interactions such as going to the shops. But that's a simplification.
Take retail and the use of robots and automation, for instance. We've been promised a variety of robots in retail settings, but it seems that, during the pandemic, some retailers found some of droids weren't the ones they were looking for. While some robots are thriving, others have actually been made redundant by the pandemic.
Digital transformation is almost always a shift away from real-world services to digital ones, and a major driver is the reduction in human staff. This can involve increasing web interactions, and using automated assistants.
This feature appeared in the 2021 Retail Supplement. Read for free today.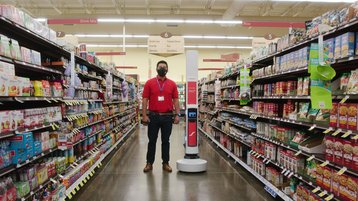 Bring on the robots?
"This past year has illuminated the need for better data across the retail supply chain, especially on retailers' shelves," said Brad Bogolea, CEO and co-founder of California-based robot maker Simbe, adding: "The pandemic has accelerated the adoption of autonomous technology to keep humans safe."
Robots come into play because they can be more capable than humans, but some argue their cost-effectiveness is also effectively compensated by the tax systems our businesses work within.
Government taxes can be a system of reward and penalty which has unintended consequences. In this case, robotization taxes treat humans as a cost, and technology as an asset. In her book Doughnut Economics, economist Kate Raworth argues that robots become a must-buy because of "perverse tax policies which charge firms for hiring humans (through payroll taxes) and subsidize them for buying robots (through tax-deductible investments)."
In retail, the biggest digital transformation process is not based around robots, but the closure of brick and mortar shops, as commerce shifts online. During the pandemic, this did indeed speed up, but we also saw a move to curbside collection and click-and-collect from stores.
This change had interesting consequences for the different classes of robots in the evolving ecosystem which serves our commercial sector.
Automated warehouses
Online ordering means a lot more items will be sent directly from warehouses to the customer by post or courier. This means warehouses handling a lot more individual itemsand turning into what Amazon has dubbed "fulfillment centers." Robotic warehouses have come into their own in 2020 as they enable staff in those warehouses to fulfill more individual orders.
These retail robots are not semi-autonomous mobile creatures. The most developed warehouse systems treat the entire building as an organism. In its guts, a set of moving parts acts as a mechanical "digestive system." Stock is ingested in a loading bay, sorted into bins that fill the three-dimensional space of the building. Mobile trolleys on a grid floor pick the products and take them to dispatch where they are labeled automatically.
The process is vastly more efficient. For Giesswein, a woolen shoe maker in Austria, an automated warehouse enabled a shift from shops to the post: "The whole business of shoes is old. 80 percent was done by stationary shops," he told us. Covid changed everything, and with the help of an automated warehouse, the company now sends 80 percent of its stock to online customers (see Soft Sell p9).
This story is not unusual, and similar warehouse systems are emerging elsewhere, but the field is fiercely competitive.
In the UK, Ocado began life as a delivery firm associated with Waitrose grocery stores, but became a separate retail company and eventually morphed into a technology provider. Ocado Technology develops systems including automated warehouses, and the Ocado Smart Platform online shop system.
As well as running automated warehouses for its sibling company Ocado Retail (part-owned by Marks & Spencer), the company has supplied its Ocado Smart Platform to customers including Sobeys in Canada, Casino in France, and Kroger in the US.
Ocado has bought two US robotics startups, Kindred Systems and Haddington Dynamics. At present, however, Ocado is being sued by Norwegian automated warehouse firm AutoStore for alleged patent infringements. Neither company wanted to speak to DCD for this supplement.
Stock checkers
There's another category of retail robot that has been less well-served by the pandemic. In the last few years, some pioneers have experimented with robots that move along the aisles, checking stock levels and tentatively attempting to help with customer inquiries.
These robots tend to be tall and thin, moving on a Roomba-like base, and equipped with sensors to detect people and avoid collisions. Simbe's Bogolea described his company's Tally stock-checking robot to DCD: "Tally is slim and narrow, making it easy for shoppers to maneuver around it, and Tally has great manners, always giving shoppers the right of way."
A robot's look depends on its function, said Bogolea: "Warehouse robots are designed to be dexterous like a human hand, able to pick and move products. Because Tally's function is to operate in stores and scan inventory, it is designed to be shy and non-threatening, able to work harmoniously alongside store teams and shoppers."
Also in California, Lowes has tested the Lowebot, developed by San Jose's Fellow Robots, a sort of mobile kiosk which rolls around the store checking stock. Customers can use a touch screen or microphone to ask it where to find things, and then follow as it leads them to the right aisle.
Giant Food Stores and Stop & Shop used another pillar-shaped bot named Marty.
But despite Bogolea's optimism, there are some signs that it might not be working out. In 2017, Walmart started rolling out BossaNova shelf-scanning robots to 500 of its stores - but the Wall Street Journal revealed in November 2020 that it had dropped the robots.
It seems that the pandemic, and its ensuing boom in online sales, had put these robots out of a job. During the pandemic fewer customers visited the shops in person, relying instead on staff to make up their order for them. As staff walked the aisles collecting orders, they performed the stock checks and the robots were redundant.
This might be more than a bump in the road for in-store robots: BossaNova has laid off half its staff in response to the setback.
But at Bogolea thinks the click-and-collect boom won't hurt Simbe: "Tally's real-time product location and availability data is instrumental to store teams, helping them more quickly replenish store shelves and fulfill online orders. Schnuck Markets [a US grocery chain] provides Tally's product location and availability data to grocery pickers, enabling them to more quickly find items in-store or make a replacement if a specific item is out-of-stock."
Delivery droids
There's a final corps of robots looking for work in retail, and that's the delivery droids. These can look like diminutive electric vehicles or, for the more adventurous retailers, could be drones taking to the air.
In Australia, Domino's has tested the idea of delivering pizza with a robot vehicle called the Domino's Robotic Unit (DRU). The company says its plan is to use GPS data kindly provided over the years by its human drivers, to replace them with an autonomous vehicle. Domino's has also promised - and even tested - a drone-based airborne delivery unit.
One could call that a prototype, but a more honest description would be a stunt.
More realistic is the FedEx SameDay Bot, announced in 2019, and now called Roxo. It's a box on wheels, designed to climb up and down curbs and get packages to their destination. It's not a road vehicle and is street-legal in seven US states.
Amazon has a smaller unit called Scout, which is already making deliveries in four US states, and is reported to be preparing for launch in the UK.
However, there's one thing that makes it clear these are still not ready for widespread use. 2020 saw a huge rise in demand for deliveries, and a pandemic that suddenly turned the job of delivery driver into a dangerous frontline occupation.
If anything could turn delivery robots into a winning use case, it was the pandemic. If delivery robots were ready to go, we would have seen platoons of them taking to the streets, bringing supplies to sheltering humans.
The fact that we have not tells us that these droids aren't really ready yet.