M/A-COM Technology Solutions, better known as Macom, has claimed the laurels as the first company to produce a laser-driven, photonic integrated circuit (L-PIC). The device can offer a total data throughput of 100Gbps.
The MAOP-L284CN complies with CWDM4 (coarse wavelength division multiplexing) and CLR4 Alliance standards, requiring it to use four 28Gbps channels which generate wavelength (color) channels to reach the combined throughput of 100Gbps across up to 2km (1.24 miles) of single-mode fiber.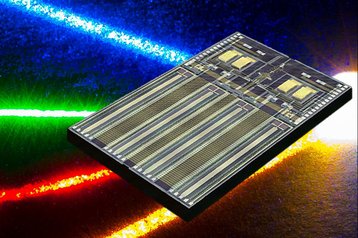 Silicon photonics has arrived
The need for high-speed communications in the datancenter has been evident for some time as traffic has put stress on the achievable throughputs of 10Gbps networks. Hyper-scale cloud data centers being built by companies such as Amazon, Facebook and Microsoft are looking for compact, efficient and relatively inexpensive solutions to data transfer bottlenecks.
Macom's product uses four high bandwidth Mach-Zender modulators to split laser light into 1,270, 1,290, 1,310 and 1330 nanometer wavebands and a CWD multiplexer to transmit the light through the fiber optic cable.
Vivek Rajgarhia, vice president of strategy in Macom's High-Speed Networking division, said, "Silicon-based photonic integrated circuits, or PICs, enable integration of optical devices such as modulators and multiplexer onto a single chip. We believe that MACOM's L-PIC solves the key challenge of aligning lasers to the silicon PIC with high yield and high coupling efficiency, making the adoption of silicon PICs a reality for high-speed optical interconnects within the datacenter."
The MAOP-L284CN chip includes integrated test access point (TAP) detectors for fiber alignment, system initialization and closed loop control. The only optical requirement for installation of the device into QSFP28 (quad small form-factor pluggable) transceiver applications is a single fiber aligned to the output edge coupler of the 4.1 x 6.5 mm die.
Macom is also offering the MASC-37053A modulator driver for optimized performance and power dissipation. The driver also features integrated clock and data recovery (CDR).
Macom will be giving private demonstrations of the L-PIC at the OFC 2016 conference in Anaheim, California, on 22-24 March.