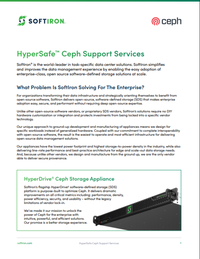 Is your data center being impacted by power and space constraints? Is archaic and inflexible infrastructure adding bottlenecks to your processing targets at the edge?
Or, is performance being hampered by legacy storage solutions that are not keeping up with the complex and evolving requirements of modern- day workloads?
If you're looking to extend or enhance the way you deploy, operate and support your Ceph environment, download this new and exclusive white paper to gain insights into how open-source, software-defined storage (SDS) adoption can be easy, secure and performant without requiring deep open-source expertise.