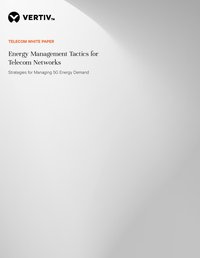 Energy use is responsible for more than 92 percent of telecommunications network operating costs, and 5G will drive unprecedented increases in consumption across the network. The urgency in urban centers and regions where 5G is a priority is palpable, but 5G is just one item on a growing list of reasons today's telcos are increasingly focused on energy and carbon responsibility.
Telcos that have been caught in a seemingly endless loop of network upgrades now are turning their attention to the costs and carbon footprint associated with those advancements. There are steps operators can take to reduce the energy their networks consume, source energy wisely, and ensure more responsible operation, and there are others to monitor as associated technologies mature.
This paper will evaluate several emerging energy management and efficiency strategies for the telecom access space and look ahead to what might be next in the battle against the climate crisis.