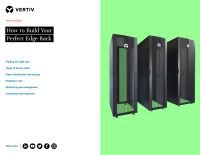 There are so many different types of edge deployments, supporting different applications, that to attempt to identify any single "perfect" rack is a hopeless exercise. However, the right edge rack for any given deployment does exist and that's what every organization should prioritize.
In this eBook, we will focus on "traditional" edge sites — the type you might find in a bank branch, a doctor's office, or a retail outlet to help you identify the right questions to ask and provide some potential answers including:
How to find the right size of Edge rack?
What are the different types of server racks and which one is best for your operation?
Understanding which equipment to use for power distribution and backup
Why maintaining the appropriate temperature and humidity smaller spaces requires a different approaches to the traditional data center
What are the remote monitoring and management options?