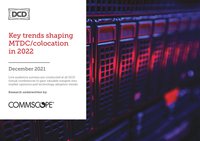 The colocation industry has seen significant changes over the last year, and more can be expected for 2022.
DCD conducted industry-wide surveys to find the key MTDC/colocation trends that will shape the year to come, and this report is a compilation of those findings.
This report answers questions such as:
How well is the MTDC/colocation sector keeping up with the current high demand?
What will be the biggest considerations for colocation purchasers in 2022?
What are the major concerns for the MTDC sector for 2022?