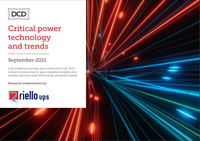 A report created using the data gathered by a DCD survey. This report covers everything you need to know about the critical power and technology trends in the data center industry.
Questions asked include:
How well are UPS technologies dealing with rising data center power densities?
What is the biggest power-related concern for data centers?
Post-COVID, how has the importance of sustainability/resilience to your organisation changed?
Download the report now to get feedback from your industry.