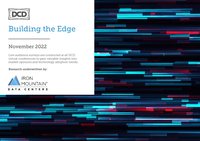 Here at DCD, we conduct regular surveys exploring different areas of the data center industry and the current trends.
This survey report is a compilation of the ideas that some of the leading experts have about the Edge.
Find answers to your Edge-related questions including:
Where do you see the industry in terms of Edge adoption?
What are the biggest demand drivers for Edge deployment?
Which technologies and systems are ready to drive Edge forward?
Download your free copy now: