Tria Case, ESQ.
University Director of Sustainability and Energy Conservation

,

City University of New York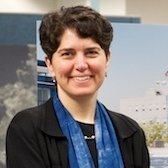 Tria Case, Esq., is the University Director of Sustainability and Energy Conservation for the City University of New York (CUNY). Prior to joining CUNY in 2006, Ms. Case served as the Director of the Office of Environmental Business Services for Empire State Development, supporting policies and programs across NYS that facilitated local government and industry in meeting NYS environmental regulations. In the initial stages of her work at CUNY, Ms. Case coordinated the development of individual sustainability plans, and a task force for each CUNY campus to support implementation. As the Sustainability Director, Ms. Case coordinates and provides resources to CUNY's 25 institutions of higher education to meet the goal of reducing CUNY's energy consumption and fight climate change through the Sustainable CUNY Conserves program. Ms. Case secures and manages multi-millions in funding for operations and maintenance projects including a revolving loan fund, the Sustainability Investment Fund, which supports energy savings projects on CUNY campuses.
Since 2006, Ms. Case has led the development and the implementation of multiple Federal, State and City funded solar, and now storage, programs on behalf of NYC and NYS, working with large stakeholder groups and leading to a significant growth in solar capacity, with storage expected to follow the same trajectory. Ms. Case formed the NYC Solar Partnership in 2006, working collaboratively with the New York City Mayor's Office of Sustainability and the New York City Economic Development Corporation (NYCEDC) in developing and implementing comprehensive plans for large-scale solar integration and the associated economic development in New York City.
One of the current focuses of Ms. Case's work is to identify and address soft or 'Balance of System' costs for the implementation and adoption of solar in NY, conducted through NYSolar Smart, a program Ms. Case developed. In the aftermath of Hurricane Sandy in 2012, Ms. Case formed the Smart Distributed Generation (DG) Hub, with City, State, and Federal participation, in an effort to integrate storage and DG into emergency power and resiliency deployment. Ms. Case received her undergraduate degree from Union College and earned her J.D. from Brooklyn Law School.