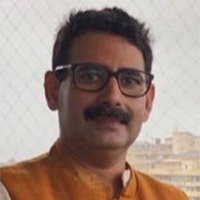 Sumnesh Joshi
Assistant Director General
,
UIDAI, Government of India
Sumnesh Joshi is an officer of 1993 Batch of Indian Telecom Service and at present he is working with Unique Identification Authority of India, Government of India. He is an Electronics & Communications Engineer and MBA from Management Development Institute Gurgaon. He also pursued a certificate Course in Public Policy from University of California Berkeley.
He is the first officer to join in April 2010 as Assistant Director General at UIDAI Regional Office Mumbai to oversee the implementation of Aadhaar project in Maharashtra, Gujarat, Goa, Dadra Nagar Haveli and Daman Diu.
He has been working with the Aadhaar Eco System Partners like State Governments, Regulators, Banks, Insurance Companies and Fintech Companies to use Aadhaar for delivery of various services and benefits.
Earlier he worked in Department of Telecommunication for 15 years of experience of telecom sector. He was instrumental to revamp the sales and distribution network of Maharashtra Circle. He had responsibilities in various capacities for Sales and Marketing of Telecom products and Telecom operations