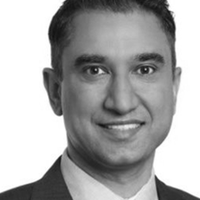 Pankaj Sharma
Executive Vice President of the Secure Power Division
,
Schneider Electric (Life Is On)
Pankaj Sharma serves as the Executive Vice President of the Secure Power Division at Schneider Electric. Most recently, he served as the Senior Vice President of the Home & Business Networks (HBN) line of business within the Secure Power Division from August 2016 to December 2019. In this role, he was responsible for the future strategy, product and software landscape, and leading a global team of R&D, quality, software, program creation, and product management professionals. Prior to this role, Pankaj served as the Regional VP for APJ, where he held responsibility for overseeing the business strategy across East Asia, Japan, India, and the Pacific – totaling 17 countries.
Through his leadership, he ensured businesses across the region maintained a strong focus on customers and partners. He led the team of regional leaders and Cluster VPs in countries to develop customer-oriented processes, deliver innovative energy solutions in data centers, and build successful relationships with Schneider Electric stakeholders. Since joining Schneider in 2000, Pankaj has held a variety of roles including Business Vice President for India, Japan, South Korea, and East Asia; as well as, roles in marketing & sales, strategy, and HBN & channels for the APJ region.
Based in Boston, Massachusetts in the United States, Pankaj's achievements include leading his team to turn around APW President's rack business in India (a company acquired by Schneider in 2011), among other successful M&A activities performed for the Secure Power Division. Prior to joining Schneider, Pankaj worked with GE in the Services area and began his career on the shop floor manufacturing CNC machines. Pankaj is a six-sigma green belt and ISO9000 certified auditor.