Retailers are no strangers to disruption, having been forced by online shopping to innovate and adjust their strategies to new consumer habits. The disruption is far from over, as the Internet of Things (IoT) creates new opportunities for brick-and-mortar stores to innovate by creating unique customer experiences. But adopting IoT technology will require serious planning and meticulous implementation. And part of that will involve investing in Edge computing, which places analytics and processing closer to the "things" in IoT and the people that use them.
For example, in-store artificial intelligence (AI) applications are now starting to take root within retail. According to Forrester, 23 percent of global data and analytics decision-makers at retail or wholesale firms interested in AI believe that it will improve operational efficiency and effectiveness. Despite the rumors of obsolescence, brick and mortar stores can compete effectively with online retailers if their storefronts are properly configured and modernized with innovative technologies.
The potential for innovation and optimization extends from the backroom, to the customer interface, to the accounting department. Retailers that embrace digital transformation to leverage IoT technology stand to benefit in three major ways – enhance the customer experience both online and in-store, optimize the supply chain and develop new revenue opportunities.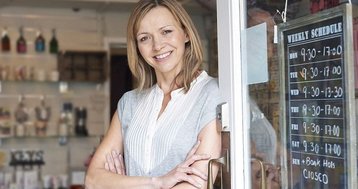 Backrooms modernize to become new Edge computing sites
It won't be long before Edge computing sites become a common feature for retailers. For instance, out-of-the-way server closets in a warehouse will house the infrastructure and applications that enable real-time processing of supply chain systems without the lag or cost that might occur if the data had to constantly travel back and forth to the cloud.
At the stores, IoT-driven backroom technology such as RFID, realtime point of sale (POS) and smart shelving systems will improve the accuracy of inventory tracking throughout the supply chain. Automated inventory management can reorder items when needed without requiring humans to take inventory, making it easier to prevent shortages of popular items at peak times such as the holidays.
Technology makes the customer experience more personalized
Where IoT innovation will have the highest visibility for retailers is in anything that touches the customer. The in-store experience has the potential to become substantially different from what we know today, as retailers endeavor to make it easier for customers to get information, get questions answered and avoid long checkout lines.
For instance, some stores already use POS systems linked to tablets that let associates process transactions anywhere on the floor. In the near future, shoppers will be scanning barcode tags with smartphones that capture product information such as choice of color and features.
Smart fitting rooms equipped with augmented reality (AR) mirrors can show shoppers in different clothing without their physically trying them on. Retailers also can deliver personalized coupons when shoppers walk into stores as WiFi systems recognize customers who previously signed up to connect to the systems while in-store. Meanwhile, infrared beacon technology will generate heat maps that tell retailers about in-store traffic patterns, allowing them to better lay out the space.
All these systems that interface with customers will be connected to analytics applications that generate data. These data, in turn,  will help retailers make better business decisions to keep customers coming back with optimized store layouts, promotions they care about and better product availability.
Combining virtual with brick & mortar drives new revenue streams
Operational and customer experience enhancements will help create new revenue streams for retailers. Better digital synchronization between the in-store, online and mobile experiences will boost customer loyalty and attract new customers.
The launching of new revenue-generating services is now also possible, thanks, in part, to connected IoT devices and system software that can be updated remotely. Retailers can choose to either deliver the services themselves or to partner with IT Solution Providers if they require outside support.
Discover more about Edge computing for retail
Innovations in retail Edge computing technologies are now accessible through "real-life" demos. In Schneider Electric's new Innovation Hub: EcoStruxure for Retail, Venice, for example, retail management is able to touch and feel integrated solutions that ensure business continuity, loss prevention, equipment reliability, energy and operational efficiency, and that provide retail customers with a connected, engaging shopping experience. This allows retail stakeholders to imagine how their storefronts can be reconfigured to assure that their customers benefit from new, personalized, in-store and omnichannel experiences.
Retailers ready and willing to invest in IoT and Edge computing technologies stand to gain an advantage against competitors who hesitate. Early adopters will be able to reap the benefits of digital transformation first. To get a jump on this opportunity, leverage Edge computing solutions to support your IoT efforts and help deliver Certainty in a Connected World.
To schedule a physical or virtual visit to Schneider Electric's Retail Innovation Hub, please contact Vanner Chow Ka-Ying at [email protected]