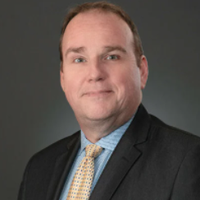 Corey Cook
Chief Engineer of Advanced Technology Solutions
,
Lockheed Martin
Corey Cook is the Chief Engineer of Advanced Technology Solutions. He serves as the lead technology strategist and integrator for training, logistics and simulation, RMS, Lockheed Martin Corporation located at Lockheed's Global Center for Innovation in Orlando, Florida.
Lockheed's technology program portfolio includes Logistics Visualization and Collaborative Vitual Maintenance via holographics and AR/VR/MR; Autonomous Systems Warehousing and Manufacturing, 5G Platform Programs, AI/Analytics for Supply Chain, IoT Radio Frequency Identification/ Automated Identification Technologies and Supply Chain Secuity.
Corey is focused on multi-team program implementation, strategic planning; technology innovation, integration, business development, investment, cross-corporate business initiatives, and fostering strategic partnerships.