Bridge Data Centres (BDC), a leading data center solutions provider in Asia Pacific has announced it will expand its hyperscale data centre campus, named MY03, located at MRANTI Park, Kuala Lumpur. This expansion provides an additional 48MW of IT power to hyperscalers and enterprises in Malaysia and Asia Pacific.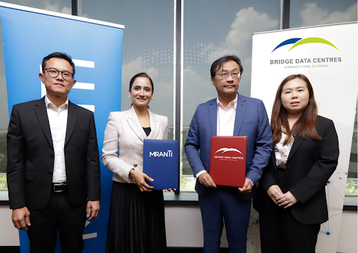 BDC has signed an agreement with Malaysian Research Accelerator for Technology & Innovation (MRANTI), Malaysia's central research and innovation commercialization agency, to develop three buildings and a 132kV substation in MRANTI Park. With the expansion, MY03 will offer a total IT power capacity of 64MW.
The expansion project comprises two phases. Phase one is planned to be ready for service with 16MW by Q3, 2025. Phase two is scheduled to begin operations by Q4, 2027.
This development further reinforces MRANTI Park as a thriving technology hub for the global community, accelerating business growth and success.
BDC and MRANTI held a signing ceremony in Kuala Lumpur which was witnessed by Dzuleira Abu Bakar, CEO of MRANTI, Khairil Anuar Sadat Salleh, CCO of MRANTI and Dz Shing Lim, president, Bridge Data Centres.
The establishment of the data center campus in MRANTI Park entrenches Malaysia as a desired destination for data center investment in the Asia Pacific region.
Located strategically in the vicinity of central Kuala Lumpur, MRANTI Park spans across a vast area of 686 acres and strategically supports the entire innovation process with a focus on driving the commercialization of "impact technologies" in key industry sectors to foster sustainable development.
"Last year, we introduced a comprehensive and integrated approach to transform MRANTI Park from a property-focused sector into a leading 4IR hub in Malaysia. This master plan aims to achieve a gross development value of RM20 billion, land leases worth RM2.8 billion, and the creation of 8,000 jobs by 2027," said Dzuleira Abu Bakar, CEO of MRANTI.
"We recently launched the country's national testbed for 5G through the government-led MRANTI 5G Experience Centre to fast-track new innovations in a more enriching data-driven future. Today, we are excited to announce the expansion of Bridge Data Centres within MRANTI Park, aligning perfectly with MRANTI Park's expansion strategy," said Bakar.
YBhg. Datuk Wira Arham Abdul Rahman, the CEO of the Malaysian Investment Development Authority (MIDA), expressed his excitement in the Bridge Data Centres' MY03 hyperscale campus expansion project located in Bukit Jalil, Kuala Lumpur.
He emphasized, "This project serves as a testament to investors' trust and confidence in Malaysia as a strategic, conducive and sustainable data center investment destination in the region.
"MIDA will continue to facilitate BDC's strategic initiative in creating market ready talent and providing cutting-edge technologies to local businesses, especially SMEs, thereby expediting Malaysia's growth into a high-income nation."
Mahadhir Aziz, CEO of Malaysia Digital Economy Corporation (MDEC) said, "Bridge Data Centres' expansion in Malaysia not only addresses the surging demand for digital transformation but also underscores our unwavering commitment to advancing Malaysia's position as the digital hub of ASEAN.
"By catalyzing growth in the digital economy through our Malaysia Digital (MD) national strategic initiative and PEMANGKIN programmes, we are fostering an ecosystem that propels Malaysia to the forefront of high-value investments.
"Together with Bridge Data Centres, we are poised to serve evolving digital infrastructure needs and forge a path towards a future defined by innovation and success."
Dz Shing Lim, president, Bridge Data Centres said, "Our expansion in Kuala Lumpur further strengthens BDC's position as Asia Pacific's data center solutions leader. This strategic investment allows us to better serve our clients' evolving needs with best-in-class data center solutions and contribute to Malaysia's digital transformation journey. I would like to express my appreciation to MIDA, MRANTI and MDEC for their support."
Tho Lye Yit, vice president, Design, Bridge Data Centres, added, "The state-of-the-art facility will feature sustainable features, energy-efficient power and cooling technology and multiple network connectivity to ensure uninterrupted operations and optimal performance."
For more information, please visit www.bridgedatacentres.com or follow BDC on LinkedIn.
More on Malaysia
MDEC is working with Microsoft on a range of projects to digitalize Malaysia, upskill the people and drive a more sustainable digital economy

George Rockett talks to Wan Murdani, director, Digital Enablers at MDEC about Malaysia's journey to becoming a regional data center hub that is ready for hyperscale

Company begins work on third facility at same site