Data center businesses are acquiring land across the planet. The growth in digitalization, accelerated by the Covid pandemic has increased attention, competition and value of land with planning for data center construction.  But how does acquiring land add value to a data center operator, and help deliver on a vision of sustainable data centers? Owned land adds value in several ways; as an asset in itself; as a resource to create speed to market; and as the focus of engagement with communities for sustainability.
The only true asset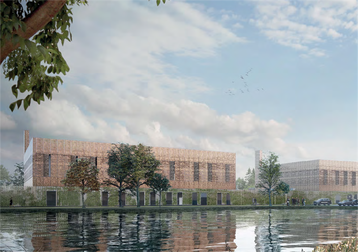 Land is intrinsically valuable, but some is more valuable than others. The estate-agent's motto of location, location, location holds at least partially true for data center land too. Ideal areas are undeveloped but are surrounded by developments. 'Fill-in' developments have lower impact on environments and are close to key existing facilities and utilities.
Sites that are already well connected to local transport, communications and power infrastructure can be quickly developed to provide high value services for customers as well as jobs and income for local communities. Sites such as these are in prime positions to meet the demands of the hyperscale, colocation, HPC and enterprise segments – close to power, data communications connectivity, skilled engineers and suppliers and to populations of digital consumers.  The proximity to both supply and demand allows owners to quickly start generating a return on real-estate investments.
Land is also a finite asset, and in many areas is extremely expensive and hard to acquire. The leading European data center markets of Frankfurt, London, Amsterdam, Paris and Dublin (FLAPD) are finding it increasingly hard to provide suitable land, with sufficient renewable power, at commercially viable prices. We've already seen increasing interest in the Nordic region, and we expect this trend to continue and intensify driven by the overall low TCO (Total Cost of Ownership) delivered by the low-cost renewable power available in the region. Securing land establishes the foundation for customers to capitalize on this continued growth.
Delivering return - fast
Which brings us to the second value-driving attribute of a land bank – speed to market. The explosion in digitalization and demand for online services seen over the past will increase exponentially for the foreseeable future. Business, consumers and governments are all undergoing rapid digital transformations which demand increasing data center capacity in all markets. The companies who support these shifts and transformations are also growing and transforming themselves.
Across the globe, they are in a constant race to be first to market and to deploy more capacity. Those who can support this growth and retain flexibility around these transformations and still rapidly design, build, deliver and operate high quality, secure, scalable and resilient data center facilities will win a significant portion of this business. Build to Suit concepts can rapidly deliver facilities that meet the exact specifications required by customers.
Our place in the world
To many, data centers are an unknown, unheard of and unseen thing - The Internet 'Just Is, Right?' The reality is that while the Internet fuels the developed world, to make it work, requires global infrastructure on a colossal scale and that infrastructure consumes huge quantities of resources to grow and operate and particularly energy from the power grid.
As a part of this infrastructure, it is easy to only see the benefits that our business brings and to overlook the potential drawbacks that can come if you don't design, develop and operate with the environment, sustainability and the community in mind. We must never forget that the land we own and facilities that we build and operate sit within established communities. Whether our neighbours are industrial, business or residential, we are always conscious of our impact on the local and wider environment.
True, as a Nordic based company, DigiPlex finds it easier to procure power from sustainable sources, but that is only one part of the picture. Design elements like low energy, compressor free cooling, low energy lighting, rainwater harvesting, waste heat reuse, low impact and low-rise energy-efficient building forms, are coupled with initiatives like sustainable and responsible sourcing and community enhancement and engagement programs.
At Høje-Taastrup we will collect the rain that falls onto the campus and store it in a biologically balanced retention pond that will provide all the water for our adiabatic cooling systems for all but the driest years. In addition, we will export our waste heat into a district heating system that will provide heating and hot water for local businesses and dwellings in an environmentally friendly way.
Being a good neighbor also involves developing the land and improving local infrastructure. This often includes not only upgrading the roads around data center campuses, but landscaping and creating features for the enjoyment and enhanced safety of communities. For example, by creating lakes and a storm water-basin that not only store water for data center use but improve the local ecology and help reduce flood risks from heavy rain or snowmelt. Natural habitats that encourage native wildlife to quickly re-populate areas disturbed by building works should feature in all designs.
But community involvement must go further than ensuring that the natural environment is as healthy as possible. Data centers are the infrastructure of the digital age, and as such, represent an opportunity for jobs and skills development for local people. They should not be nondescript sheds but act as centers that foster interest in the digital economy. Open days can help individuals and businesses to understand the opportunities that come with digital transformation.
So, whether it is contracts with local businesses and suppliers, field trips for architecture students, events and demonstrations for engineers, or simply 'show and tell' sessions at local schools and colleges, we should welcome the opportunity to show off what we build, how we build and why we go the extra mile. 
All of this contributes to the real value of land. It is more than an asset in the strictly financial sense of the word but enables us to play the roles we want to play in the global digital landscape, the sector and the communities in which we operate. With responsibility, safety and sustainability at the core, we seek to tread lightly on the land we own, stewarding it well to add value to all of its stakeholders.