Today's data center ecosystem is growing in the hyperscale and Edge spaces, supporting increasingly complex, distributed modern networks.
There are several drivers for the shift toward these extremes and to a new enterprise model, including the desire to streamline and simplify operations, reduce costs and carbon footprint, and place computing closer to the end user. This has been well chronicled. What's less known is that these same factors are driving other changes to the data center.

One of the most significant changes is in the design of data center solutions and facilities. The purpose-built enterprise data center may not be extinct, but it is an increasingly endangered species. The overwhelming trend today is toward standardized designs featuring off-site prefabricated, modular buildings and components and the increasing use of industrialized construction.
Consider this. In a recent Omdia survey of 228 companies that operate their own data center, just over half reported having deployed prefabricated modular data center (PMDC) technologies in their data center already, and a stunning 99 percent said PMDC would be a part of their future data center strategy.
The case for prefabricated design
There are good reasons for the move to more prefabricated, modular designs. Construction and integration can be performed under tightly controlled factory conditions by trained specialists while on-site preparation continues, compressing construction timelines. This reduces project costs and improves total cost of ownership (TCO) by shortening the time to revenue.
Modern prefabricated modules are sleek, fully integrated, efficient building blocks. They are increasingly common choices for new data centers or additions to existing facilities.
The options range from smaller prefabricated components – integrated racks, rows, or aisles built in the factory and deployed with servers and infrastructure included – to all-in-one modules featuring integrated IT, power and cooling.
According to the Omdia research, 79 percent of those who have deployed some type of prefabricated solution said they had deployed this type of all-in-one module.
Exploring a hybrid approach
Now, another type of prefabricated design – more of a hybrid concept – is emerging in the data center.
In this approach, facility infrastructure modules that feature a holistic system are integrated and tested off site and deployed ready for immediate installation. Power modules are the most common, but cooling, IT, and mechanical modules offer similar benefits. These modules can be configured in an enclosed unit or mounted on an open skid.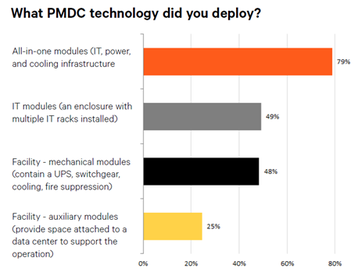 These modules and skids can be installed in retrofits of existing data centers or new builds and deliver all the benefits that come with other PMDC design approaches. They also can reduce the traditional building footprint by as much as 30 percent depending on the specific architecture, creating additional white space for revenue-generating equipment.
In most cases, because power modules are fully integrated, prefabricated systems, they are considered equipment (product) rather than part of the building. This simplifies compliance with building codes, standards, and regulations that can be tedious in traditional installations. Modules also can be designed to optimize performance in non-traditional ways. Designing power modules with enhanced thermal properties ‒ using aisle containment principles, for example – can improve the overall thermal profile of the facility and reduce energy and costs dedicated to cooling.
The choice of module or skid depends on the needs of a specific site, but as a broad recommendation, power module-based design is most appropriate for data centers up to two stories, and skid-mounted solutions are better suited for any building higher than that.
Hyperscalers and PMDC
Standardization isn't limited to the enterprise set. Today's hyperscale data center operators are increasingly valuing the benefits of standardized design in their race to add capacity to existing facilities or build new data centers. In fact, we would estimate 70-80 percent of Vertiv hyperscale customers are using some form of hybrid design in their facilities.
The leading cloud providers are turning to colocation facilities, where standardization is the norm, to meet increasing demand and reap the benefits of repeatability in rolling out their infrastructure.
Ultimately, these providers and the hyperscale community at large are searching for ways to add capacity quickly and economically. PMDC, and specifically hybrid designs, are a growing part of those strategies.
Bottom line
Off-site prefabricated modular design is the dominant trend among enterprise data centers and colocation facilities and is an increasingly popular choice among hyperscale operators, including some of the world's leading cloud providers.
The emerging preference among the hyperscale segment is a hybrid design, leveraging facility infrastructure modules or skids. This approach can reduce footprint by 30 percent over a traditionally constructed building, radically shorten construction timelines (potentially by as much as half), increase facility energy efficiency, and improve system reliability through factory construction and testing and repeatability.
More from Vertiv
How colocation data centers can help hyperscalers meet sustainability goals through new and innovative technology

In this episode, we discuss the cooling technologies that Vertiv's Greg Stover thinks has legs

A future-ready data center requires tighter focus on internal operations and evolving customer needs