Everyone, except the most myopic, understands that the world's environment is in crisis. Governments, industries, corporations, down to individuals are taking steps towards better environmental stewardship. We must all take responsibility for our actions and help reduce the emissions we create to achieve Net-Zero.
Suppliers, customers, investors, and employees all understand that this is not an easy path, but it is an essential one. We have all witnessed, over the past decade, how the data center industry has grown from an obscure market to a key economic engine for every developed and developing country. It continues to grow and with it the need to reduce the negative environmental impact generated, from construction phase, through fit out, to resource utilization, such as, water and energy.
At Panduit, we concentrate on delivering the physical ITE infrastructure to data centers and environmental stewardship is part of a holistic approach to the company's business philosophy. We have realized that customers recognize that sustainability is a key driver for future growth, and they want to partner with companies that are committed to sustainable business practices.
Efficient manufacturing
The organization has implemented a broad strategy of greening our supply, production processes and offices, and this is not a late to market effect of customer pressure. These changes were initiated over a decade ago, demonstrated by our Costa Rica manufacturing facility which has been carbon neutral certified since 2014. The plant was recognized as a pioneer in CO2 reduction at the 2019 PreCOP25 International Climate Conference.
A key goal is to recycle thousands of metric tons of manufacturing waste per year and reduce Panduit's carbon footprint by 20 percent by 2025. A further manufacturing goal is to reduce energy intensity (kWH/Earned Hours) by 10 percent by 2025, across our facilities.
Manufacturers must make changes in every aspect of their business flows in order to achieve meaningful steps towards Net-Zero. We have been reviewing processes across the board, from base materials, manufacturing, transportation, product reuse, recycling, and disposal, all the while innovating to capture, and drive gained benefits forward.
Panduit's world headquarters was certified as a LEED Gold building. The building's data center is cooled by filtered rainwater, and the green roof helps regulate the temperature of the rooms below, while assisting with rainwater capture.
We also harvest daylight using light shelves to bounce natural light into the building to maximize light distribution, which is a subject our R&D teams are very aware of. All these activities generate data, which is used to benchmark, evaluate, and improve the operation of the building systems in order to conserve energy, improve occupant comfort, maximize productivity and enhance operations.
Recycling for all
Organizations must be strident in material sourcing. We are RoHS and REACH compliant and have implemented recyclable material packaging. We work with our suppliers to upgrade packaging increasing renewable wood and cardboard products as well as recyclable plastic materials.
We, like many organizations, measure, analyze and report the environmental and health impacts of copper cable and connector materials as part of the Environmental Product Declaration (EPD) and Health Product Declaration (HPD) process. Current investigations include recycling excess fluorinated ethylene propylene (FEP) back into base material and the reuse of copper waste generated from the manufacturing process to achieve 100 percent waste recycling.
E-Waste is a major challenge according to the Global E-Waste Monitor project. 53.6 Megatons of e-waste was generated around the globe in 2019, of this only 9.3 Mt, or 17.4 percent was disposed of or recycled properly.
Panduit's R&D Labs have been investigating product efficiency for almost 60 years. Ways in which we are helping customers be more sustainable are data centers, whether on-premises or standalone sites, consume massive amounts of energy. Up to 40 percent of data center energy is used in cooling and lighting, therefore, increasing energy efficiency is important in improving sustainability and reducing carbon emissions.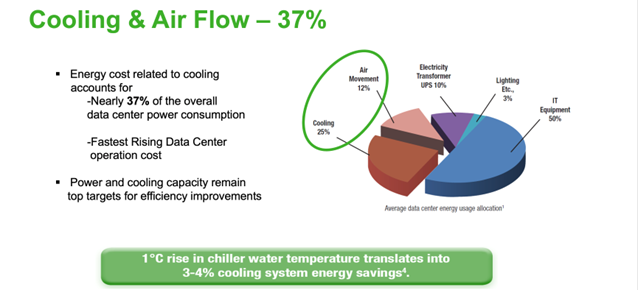 Reflecting on energy saving
Several years ago, our labs undertook research into the benefits of white cabinets compared to black. It was found that white cabinets provided a Light Reflective Value of 80 percent verses black cabinets that offered five percent. This equates to a light energy saving of up to 30 percent, (1.5-3 percent of data center energy savings), while requiring fewer light fittings in the area. We also found that the reflective light allowed easier working in and around the cabinets for installation or MACs.

An even bigger opportunity to increase energy efficiency is around the servers. ASHRAE TC9.9 has encouraged operators to raise temperatures in technology spaces and introduce environments such as hot/cold aisle containment systems that eliminate hot air recirculation.
Improving cold air direction into cabinets intake fans reduces inlet air temperature and improves cooling and equipment reliability. Ensuring cabinets are air sealed ensures empty rack spaces and gaps around cable inlets are covered and reduces air leakage by up to 20 percent preventing hot air contamination. These measures can reduce energy use by a staggering 40 percent, a demonstrable sustainability win.
Today, monitoring devices and DCIM systems ensure that data in and around cabinets is collected and reportable to ensure cabinets operate at maximum efficiency, which is good for the data center, good for customers and good for the environment.
Panduit continues to review product materials and sourcing strategies. Vari-Matrix HD 28AWG patch cords offer the industry's smallest diameter Cat 6A cable, which uses less material in its manufacture, and maintains the quality and capability of its characteristics. This also allows more cables per bundle around the site and in distribution more reels per pallet, increasing shipping efficiency by reducing the number of traffic journeys.
Companies looking to evaluate potential suppliers should ask for ESG policies and evidence they contribute to internal efficiencies and drive lower energy use, reduction in base materials usage and reduced packaging. Also key, is what internal practices are suppliers taking to drive internal efficiencies to improve sustainability drives, such as EPD/HPD certification on euroclass rated cables which help with LEED and BREEAM and demonstrate a cradle to grave measurement approach.
More from Panduit
Delivering power – and data – efficiently, safely, and securely

Robust, flexible, integrated and sustainable – the fiber infrastructure needed to support today's data center demands

Multi-tenant data centers need physical infrastructure that connects every area equally well. Panduit's latest Solution Guide shows you how