Remote monitoring services for edge computing infrastructure devices have been around for years. You paid the UPS vendor to look from afar for battery self-test failures and other faults. A failed unit would send a notification to the vendor's tech support team member, who might be out with their mates on a Friday night.
Now there's certainly great value in having someone keeping an eye on the equipment that's powering and cooling your critical IT. After all, you may not have the bandwidth to do it yourself... at least, not   as well as you might like. But these traditional services weren't as helpful and responsive as they could have been. New digital services have emerged that are much more proactive with faster response to critical incidents and execution of maintenance activities. Imagine a vendor service rep appearing at one of your sites to fix a problem you didn't even know you had yet!
Next generation management tools take advantage of newer technologies, such as cloud computing, data analytics, artificial intelligence, and mobile communications. Compared to the traditional, license-based, install-a-third-party-server-on-every-site approach, next generation management tools offer greatly simplified deployment and maintenance of the tools as well as management of the physical infrastructure.
This is especially valuable when you are managing multiple edge computing installations with widely dispersed assets. These new digital remote monitoring services are built on top of this new management platform and share its benefits. At Schneider Electric, we call that platform EcoStruxure IT. So, what does it mean for remote monitoring services to be "digital" and how do subscribers benefit?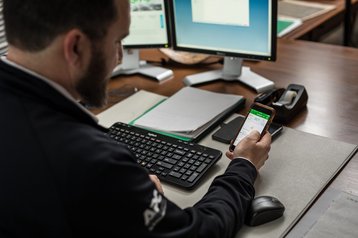 Meeting the Challenges of Managing Edge Computing Sites
The fundamental challenges for those managing edge computing sites are a lack of on-site staff and the geographically-dispersed nature of the assets. It's tough to keep on top of where stuff is and the health status of equipment, particularly with older, traditional monitoring tools. Maintenance might be daunting and expensive. Many choose to rely on managed service providers (MSPs) and other third-party vendors to monitor and maintain their equipment because it's more cost effective.
New cloud-based monitoring platforms that support mobile and web technologies like EcoStruxure IT make this simpler. They provide a secure platform for trusted third parties to monitor from afar so that you and your partner both have access to the same data, at the same time, across all sites. The cloud architecture also provides a means by which data analytics and artificial intelligence services can be provided to make monitoring much more proactive and even predictive.  All of this is needed when you're tasked with managing multiple, unmanned edge computing sites.
Digital remote monitoring and on-site service dispatch are emerging from this same platform to further simplify and reduce the cost of managing distributed assets. With these services, the vendor is monitoring the fleet of UPSs, for example, via the cloud, in real-time. This "service bureau" of experts is tied directly into on-site service dispatch depots. When the device vendor's service bureau detects a critical alarm in real-time, it can initiate an immediate dispatch of a technician with the correct part and without any action required from the site owner. This can save time and money for every critical alarm that occurs —in addition to potentially avoiding the severe cost of downtime that might have occurred.
If you find yourself questioning the ability to monitor and keep track of all your distributed assets, it might be time to consider digital remote monitoring and dispatch service. Download our white paper Digital Remote Monitoring and Dispatch Services' Impact on Edge Computing and Data Centers.