With burgeoning demand for data storage, shorter lead times for original equipment manufacturers (OEMs) to deliver mission critical equipment such as generators, cooling systems and power centers, as well as global supply chain disruptions caused by Covid-19, data center developers find themselves under increasing pressure to complete construction on time and within budget.
Failure to synchronize schedules for Owner Furnished Contractor Installed (OFCI) equipment production, delivery and installation often results in timeline delays, site congestion and inefficiency, which has proven to be the single largest variable for cost increases during the construction phase of data centers.
The need to predict site-building activity production is more critical than ever. Site construction teams typically maintain detailed level three schedules with critical path dependencies linked to the equipment's arrival. Synchronizing site tasks to equipment delivery remains one of the primary challenges, and sliding completion dates can cause downstream construction scope creep by days or weeks, if not months, driving up costs.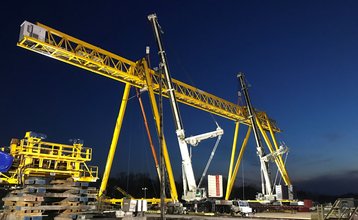 Watch for bottlenecks
In an ideal world, OFCI equipment is delivered directly to the contractor or installer at the right moment in the construction process, but this requires close coordination among the key stakeholders. Schedules must be synchronized to avoid congestion and delays and every aspect of logistics must be coordinated to prevent bottlenecks and ensure predictable outcomes.
Matt Brennan, president of ProLift Rigging, notes, "Synchronizing the original equipment manufacturers' production and site delivery dates with critical construction project activities is a challenge. OEMs have an ever-increasing demand to produce high quantities of equipment in a short amount of time and then move it off their production line as soon as possible. This often leaves customers in a very difficult position due to issues with site readiness and inflated emergency storage costs."
An effective way to sidestep construction site congestion and improve efficiency is to take advantage of "project buffering," which allows the developer to deal with congestion before it occurs. This can be achieved by use of an off-site temporary warehouse staging area where equipment can be delivered and later transported to the site as needed for offload and installation. With project buffering, equipment is received and warehoused as soon as it becomes available from the manufacturer and while the building construction phase continues to progress.
Utilizing project buffering, construction teams can perform quality control field verification, inspection and electrical line up prefabrication assembly work for indoor units at the warehouse, eliminating site delays associated with foundation, hookup and equipment issues during installation. As equipment arrives at the warehouse, the rigging and installation plan can be verified and a logistic delivery plan designed that aligns with the site contractor's building schedule. Once the building phase is completed, the equipment can be transported and set in a short span of time.
Project buffering results in reduced inefficiency and site congestion while accelerating critical construction timelines and providing data centers quicker speed-to-market. The practice also can realize costs savings for heavy lift by reducing the time skilled labor is onsite.
Effective streamlining of OFCI equipment delivery and installation through close coordination and synchronization, logistics planning and project buffering ultimately removes delivery delays, minimizes site rework delays, lowers site risk and results in faster built data centers.