Big data and the Internet of Things are among the market and technology trends that have altered the distributed computing landscape. Whereas pockets of network closets traditionally hosted communications switches in office buildings, now, more powerful but compact micro data centers are filling those spaces. And they're making appearances in retail locations, manufacturing sites, warehouses, public administration offices and healthcare clinics of all kinds.
As application areas diversify, new choices and formats of micro data centers are entering the marketplace. The latest iteration is Schneider Electric's 6U Wall Mount, introduced at Innovation Summit in Barcelona in October 2019. Designed for edge computing where space is at a premium and resiliency is a must, this first-to-market EcoStruxure Micro Data Center C-Series 6U Wall Mount is the shape and size of a large electrical panel (3-feet-wide by 2-feet-long by 1-foot-deep). It is designed to save floor space as it allows heavy, edge servers, networking equipment, and the Uninterruptible Power Supply (UPS) to be safely mounted on a wall.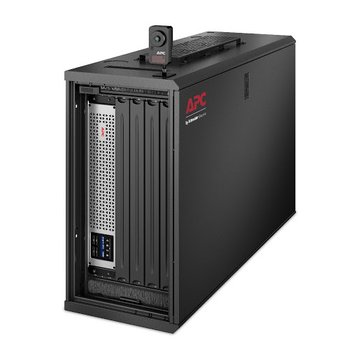 Challenges that accompany the move to Edge computing
For end users, these new edge computing solutions address issues that include the need for critical computing in remote locations, higher degrees of physical security, and space savings in facilities already crowded with either devices, people or business supplies.
Fast food restaurants are one example of how the need for more powerful edge compute capabilities is growing. Digital kiosks are beginning to appear in their restaurants. Customers simply walk up to them and place their order, instead of waiting for a cashier to become available. While this innovation may provide additional customer convenience, if the local computer running the kiosk software or any related processes goes down, the business is at a standstill. Edge applications will need to be protected in the same manner as critical data center applications if fast food is to remain fast.
Rolling mission critical IT equipment into places where servers, storage and networking have never existed before can be challenging. Dusty environments, more people milling about, and a lack of onsite technical expertise can all lead to unanticipated business downtime.  As a result, micro data center asset owners have to ramp up both physical security and the remote visibility to these systems.
In fact, there is now a need to provide data-center-like resiliency to some of these sites including battery backup, power protection, remote monitoring, standardized designs, redundancy, and cooling.  Resiliency elements, which were not a concern before, begin to factor in because downtime for most of these new edge computing systems is not an option.
More from Schneider Electric (Life Is On)

Diverse solutions to address multitudes of niche applications
Over the last two years, as the applications for edge computing have expanded, so has the diversity of the types of micro data centers available to meet end user edge computing needs. In fact, depending on who you talk to, the definition of what a micro data center really is can be quite different.
On one hand, a very basic system can consist of a simple rack (physical security) with a UPS to provide battery backup and power protection. Adding a simple switch and server is enough to begin the process of local data capture and data sharing. On the other hand, some micro data centers can incorporate modular designs comprised of sealed solutions equipped with hyperconverged IT, ruggedized components that resist the dust and moisture of harsh environments, and built-in fire suppression and cooling technologies.
How big and complex a micro data center will need to be depends on the IT technology required to address the business challenge, productivity goal and/or local app that needs to be supported.
Many of those challenges are addressed by the new 6U Wall Mount Micro Data Center because the low-profile form factor and small footprint of the unit make it less conspicuous and intrusive when compared to standard floor-based, rack-mounted solutions. As a result, the design parameters help to reduce human-error induced downtime, thereby providing system operators with additional peace of mind. Shock packaging means partners and integrators can pre-install IT for quick and standardized rollouts, and its integrated dust filter and fan ventilation make it ideal for light industrial environments. The 6U Wall Mount empowers customers to support critical business operations in non-IT environments.
Remote technical support: a critical success factor
In most edge computing locations, no on-site technical expertise will be available to manage the local micro data center site. In these cases, there are three different ways a micro data center owner can monitor these sites:
Manage it yourself – If you have staff available that can take on this added responsibility, use monitoring software to keep an eye on things — at any time, from anywhere.
Let your local technology provider manage it for you – A wide network of local IT and Managed Service Providers (MSPs) exist that are trained to support the new edge computing environments.
For larger roll outs, let the manufacturer of the equipment manage it for you – For example, the Schneider Electric Service Bureau can remotely monitor your physical IT infrastructure globally on a 24×7 basis. Field Service Representatives and partners can be automatically dispatched should the need arise for repairs or scheduled maintenance. This will permit more rapid and proactive responses to issues and improve overall systems uptime.
Access Edge Computing White Paper
To learn more about how micro data centers can address edge computing business needs and ensure Certainty in a Connected World, download the new white paper "Practical Guide to Ensuring Availability at Edge Computing Sites." For additional information on the wall-mounted unit and its benefits, access our recent press release.